We all know that brow shape can make or break your face; have you ever considered brow colour? The wrong colour can look unnatural and throw off the rest of your look, especially if it doesn't jive with your hair colour. Rachael Bebe runs a Eyebrow tattoo salon in Mt Eliza.
Eyebrows hold so much power over our faces. First, they protect our peepers from dirt and unidentified flying debris. Second, they help us articulate our facial expressions (sometimes by accident and to our own dismay!). And of course, brows can make or break our entire look.
Some girls are blessed with eyebrows that hold their own (ahem, Cara Delevingne, ahem). Other girls need a little extra help in the brow department, due to sparseness or uneven hair growth. Now, people think that a lot—maybe too much—goes into achieving the eyebrow fleekage of their wildest dreams. But here's a little makeup artist tip: choosing the right colour is the secret to brow success!

Eyebrows are, of course, one of my favourite topics. There is so much you can do with them, and the difference a brow can make to a face is always a joy to see. But should your eyebrows match your hair?

A lot of clients ask me if their eyebrows should match their hair colour, and the short answer is yes – if that it is a personal preference. It really depends on the look you're going for. Because your eyebrows are such a focal feature to your face, they can really make a difference when it comes to your overall look.

A darker eyebrow will always be more dramatic. Think of Marilyn Monroe with nearly black eyebrows and white-blond hair. It can totally work with her look.
If you are after a more natural look, then matching your eyebrows to your hair will create a more subtle look. Or even going a bit lighter with your brows can be even softer again.
Also Go Check Out Rach's Microblading eyebrows Service
Trial and error is the most important thing to learn what will suit you and your features. There are no wrong or right colour combinations. Just want looks good.

Sunny has replaced wintery. Ballet flats are standing in for snowshoes. And the change in season is calling for a ground-shifting beauty reinvention that's bigger than lipstick. Leave your hair alone—and first consider the brow, which, with an incremental permutation in tone, can transform your look from ethereal to classic, pretty to punk.
"People are looking at brows as an extension of their hair," says the makeup artist Kate Lee, who has transformed the arches of clients like Rooney Mara and Keira Knightley. For those en route to finding their ideal hair and brow color combination, discovering the right match can be tricky. Lee suggests experimenting first with temporary brow colors, like Anastasia Tinted Brow Gel, and filling in lightly with a Chanel Sculpting Eyebrow Pencil for added depth. "It's instant gratification," she explains. "Take a selfie, look in the mirror, and make sure it suits you."

Once you've settled on a shade, New York City colorist Aura Friedman, whose clients include everyone from Carolyn Murphy to Caroline Polachek and Sky Ferreira, says the only rule for dyeing your eyebrows is to match warm tones with warm tones, cool with cool. That, and be prepared to return to the salon at least once every four weeks—even more often if you've gone lighter (though Lee notes that a tinted brow gel will see you through any awkward salt-and-pepper transitional moments).

Here, Lee and Friedman offer their guidelines for brow alterations that enhance eye colour, strengthen or soften bone structure, and look as inconspicuous or dramatic as desired.

Choosing a new hair colour is a serious business. It's a journey that starts way before you sit down in your colorist's chair. Scrolling through Instagram for inspiration, creating a Pinterest board for each possible shade, and reading up on what colours work well with your skin tone are all crucial steps leading up to your salon appointment.
When you're so focused on switching up your hair colour, it's easy to overlook your eyebrows, but it's equally important that the shade of your brows also compliments your new dye job.

"Your hair on your face and around your face should frame and enhance your natural beauty," says Christine Thompson, co-owner and colour director at Spoke & Weal. "Getting the tones and level right is essential to translating your look, whether it's soft or strong."

Amy Clark of Rob Peetoom Salon New York says to make sure the shade of your brows compliments the tones in your hair colour. "My general rule would be to keep it as close to the shade of your hair as best as possible, or one shade darker," she says. Going too dark can look severe.

And if you have virgin hair, but want to fill in your brows. This advice goes for makeup products, too. Daniel Chinchilla, celebrity makeup artist and owner of Chinchilla Brows recommends brow powder for a soft, natural look, and a pencil if you're going for definition.

"People tend to feel better about themselves when you can see their eyebrows," explains Friedman. Natural blondes who have fair hairs can feel free to deepen the shade of their arches, she says, adding that darker brows will act as a frame for the face and enhance your eye color. "Generally, it will give you the appearance of a lot more brow. It can really revolutionize your look," agrees Lee. If your eyebrows appear too dark against your hair, Friedman suggests "taking the edge out by softening the colour one level"—an act she deems necessary across the board for brunettes going golden blonde because lightening your brows, even subtly, will warm everything up. your eyebrows should be one to two shades darker than your hair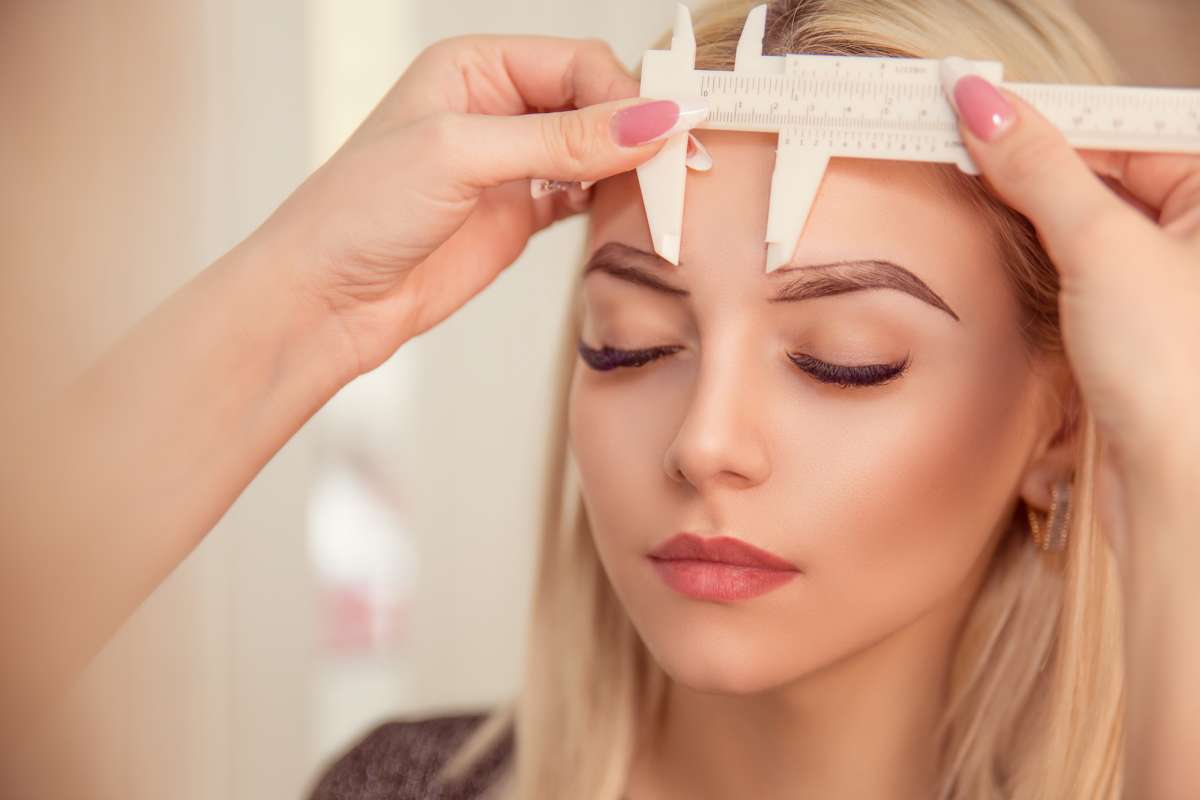 Blondes 
Blondes might have more fun, but they also have trouble getting visible brows. Thankfully, with the right products in the right shades, this is easily fixed. If you're a natural blonde with fair eyebrows, you can use a slightly darker shade to define. Notice we said slightly – you don't want it too dark, or it will look unnatural and harsh.
If you're going from brunette to blonde, however, do not try bleaching your brows to match! A) It's super time-consuming and B) You're not fooling anyone. No matter how often you touch up, at some point, you're going to see roots, and it is not pretty. Plus, bleach by the eyes? Not our favourite. Rachael Bebe also performs Lip tattoo services.

Product-wise, a gel/pencil combo is excellent for blondes. The gel defines, which is essential with hard-to-see blonde brows, and the pencil fills in the rest. One of our favourite gels is the Anastasia brow wiz. It defines, holds and makes brows look fuller – a winner in our book!
If you're a-going blonde brunette, I recommend darkening your brows," advises Friedman, but, conversely, she says, brunettes with brows deeper than their hair colour do not need to book a brow-dyeing appointment. It's a look she prefers, because "by nature, your brows are supposed to be darker than your hair," and the cooler your shade, the darker your brows can be. A lift in arch tone is only suggested for those looking to soften the fine lines that come with aging or angular bone structure, and to take the focus away from thin eyebrows. If your brow shade blends with your skin tone, and over-plucked pair won't look so pronounced
Brunette
You brunette ladies have it easy in the brow department – there are more than enough shades to choose from! Our best advice is to try to match your natural brow shade as closely as possible. Too light is better than too dark, as the latter can look way harsh.
If you're having a hard time finding the right shade, try two! Choose the two closest shades you can find and use them both at once. Sure, it's an extra expense, but your brows are important! Just alternate shades and try the darker one near the arch for real pop and definition.
Also, consider your undertone. Whether you're warm, cool or neutral, your brow shade should match. your eyebrows should be one to two shades lighter than your hair
More often than not, natural redheads don't have red eyebrows, so matching your brows to your hair colour is unnecessary," says Friedman. Those with a hue that's more pumpkin than burgundy will be best suited by arches with the smallest hint of copper. Cool redheads, on the other hand, can be coupled with brunette arches that are dark and rich.

You might think redheads would have a hard time finding a match for their brows, but it's really pretty easy. Usually, natural redheads don't have red eyebrows, so nix trying to find a red pencil to match your hair. Instead, go by your natural brow colour. If you're a warmer shade of red, you'll do well with just a hint of copper, while cooler redheads should try a vibrant brunette shade. Choosing the right brow colour can do wonders for your look. With these simple tips, it doesn't have to be intimidating!

Raven
Raven-haired women can follow the simple equation of matching black with black. "Warm eyebrows with black hair read orange and looks weird," says Friedman. But, she concedes, "Every client is case by case."
No matter what you choose, Lee cautions, "do not try to dye your own brows, especially if you don't have experience. There are plenty of eyebrow specialists. I would encourage you not to take chances."

Of course, you don't want to go too light. Then it looks like you don't have eyebrows at all. "I'm not a fan of lightening brows," says NYC makeup artist Kimara Ahnert. "It never looks right."

So what's the best way to do this? Not with bleach, that's for sure. "Fill brows in with a colour that is slightly lighter than brow hair," Ahnert says. If you have dark brown hair, use a light/medium brown brow pencil. If you have light brown hair, use a taupe/dark blond pencil, and so on. Use the pencil to feather on a little colour wherever your brows are thin or sparse, and then use a spooly brush to blend it through and blur any visible lines.

You can also use a tinted brow gel just a shade lighter than your brows to tint them slightly lighter. "This gives the appearance of fullness and definition while still looking natural," Ahnert explains. "Brows should complement the face, not overpower your features."

Of course, there's always door #3: brows that are the same colour as your hair. For most of us, nature has already provided the most flattering option, which is probably why so many women just leave well enough alone. For redheads, in particular, matching brows are almost always the best route, as demonstrated by the lovely Deborah Ann Woll.
Cosmetic tattooing Is Also One of Racheal's Many Services
SHOULD I DYE MY EYEBROWS?
When you change your hair colour, you might want to consider changing your eyebrow colour as well. There are three good reasons why you might want to do this.
If you don't want people to know that your new hair not your natural hair colour, mismatched eyebrows are going to give you away. Example: You're naturally black-haired and just went brunette. Your raven eyebrows may let people know that you dyed your hair, whether you want them to know or not.
If you're fashion-forward, or if you care just enough to pair different looks with your new 'do, mismatched eyebrows can ruin your entire style with just a snap of a finger—example: Light brown eyebrows on black hair.
Mismatched eyebrows can look really out of place, depending on the colour combination it creates with your new hair colour. Example: A combination consisting of black hair and blonde eyebrows rarely even works out well.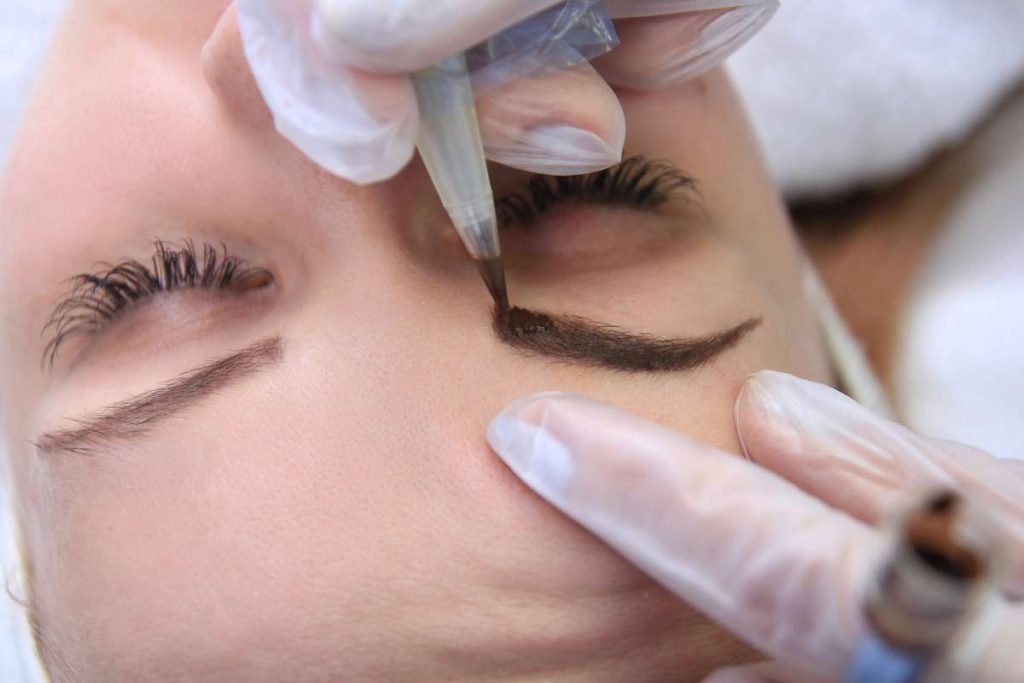 BEWARE OF BLEACHING YOUR BROWS:
Bleaching can turn your brows slightly orange and will also mean that they will grow back unevenly, which can make them look sparse.

It might seem like a good idea at the time, but it will cause a lot of problems over the next six to twelve months.

There's no hard and fast rule when or when you shouldn't dye your eyebrows, but as a general guideline, it would be best if you don't dye your eyebrows for temporary hair colours or hair extensions that you plan to replace after just a week or two, sometimes even a month.

That's because while eyebrow hair grows at different speeds depending on the person. In general they tend to grow anywhere from two weeks to four months. That means that if you dye your eyebrows for a hair colour that you'll only be rocking for, say, two weeks, then the time will come that your hair is already back to its old colour and your eyebrows are still the same colour that you dyed them before.

ALTERNATIVES TO DYING EYEBROWS
If you do want to change your eyebrow colour, dying, it isn't your only option. In fact, you have a couple of options at your disposal, especially if you're just planning to match it to your hair extensions temporarily.
EYEBROW MASCARA
Eyebrow mascaras work the same way you would use an eyelash mascara. You simply swipe the spoolie over your eyebrows, 'combing' them as well as giving them a faint colour at the same time.
EYEBROW MASK
If you have thin eyebrows, you might want to try using an eyebrow mask. Some of them are tinted, giving your eyebrows the colour you need to match your hair, but most importantly, eyebrow masks can also promote healthy hair growth.