Eyebrows have become one of the most lusted after facial features. But not everyone was born with the perfect, full arch, and others are still recovering from the days of over-tweezing. Luckily, microblading can give you the bold brows of your dreams. Learn about this, dare we say, miracle trend, and where to score an affordable deal near you. Rachael Bebe runs a Semi permanent makeup salon in Mt Eliza.

A set of microblading before and after photos speaks for itself on how transformative the procedure can be for pencil-thin brows. The process of tattooing small hair-like strokes into the skin fills in sparse spots and enhances the shape of the brow arch, giving you the eyebrows you've always wanted—and saving you time from using a pencil and gel to groom them every morning.

Now that you're sold on getting your eyebrows microbladed, Googling, "How much does microblading cost?" is the natural next step before finding a salon that performs the service in your area. InStyle turned to celebrity makeup artist and microblading processional Daniel Chinchilla to find out how much you can expect to pay to get your eyebrows microbladed.
WHAT IS MICROBLADING
Microblading is a tattoo-like semi-permanent makeup treatment that fills in your eyebrows. It can also be used to create eyebrows where very little hair exists. It etches fake brow hairs into the skin using ink and a tiny cluster of needles in the shape of a blade. Unlike a tattoo, Microblading only lasts about two years before it needs to be touched up. Microblading is a semi-permanent Cosmetic tattoo service for your brows. Tiny needles are used to mimic hair strokes, so you achieve beautifully-shaped and natural-looking fuller brows. Because it is not a permanent process, the colour will fade eventually, but your brows can last between a year to three years, depending on your skin type. Those with oily skin will most likely fade out the pigment faster than someone with dry skin.

WHAT HAPPENS DURING A MICROBLADING APPOINTMENT?
Creating a Blueprint
Patience Cline headed into Die Gorgeous in Atlanta, feeling "very nervous, but also excited! I have tattoos, so the idea of them being a kind of tattoo didn't make me nervous. It was more of not knowing how they were going to turn out," she said.
Before any needle-action happened, Patience sat down with technician and makeup artist Adora Tokyo—whose resume lists such impressive clients as Gucci, Mark Cuban, and several Bravo Housewives. Adora needed to create a blueprint to follow during the actual procedure, so she measured Patience's brows and drew an outline.
"She let me look and decide the final shape. I didn't change the shape she drew, though. It was exactly what I wanted!" Patience says, calling the blueprint brows "the perfect shape for my face."
Applying a Numbing Agent
To make sure the needles didn't feel too intolerable, Adora applied a numbing agent to Patience's brow area. About 25 minutes later, the area was numbed, and Adora got to work.
Tattooing Brow Hairs
For the treatment, Adora used a handheld microblading tool. She dipped the tool into a pot of brown ink, then pressed the needle cluster into the brow area to etch faux brow hairs into the skin. Adora worked for about an hour, and Patience kept her eyes closed the entire time.

Julie Cautiverio, a former freelance makeup artist in the Philippines and a certified and licensed microblade artist who runs her studio in Silicon Valley, California, shares microblading takes about two to three hours. The first step is assessing the client's face and mapping an ideal brow shape.

After finalizing the shape, a numbing cream is used on the brows to lessen any discomfort while tattooing. After 10 to 15 minutes, Julie begins to microblade hair strokes with light pressure. It takes 20 to 30 minutes for the first pass, and Julie applies another numbing formula for the rest of the procedure.

"I go back and perfect the strokes and check with the client if she's satisfied with how it looks. If they request a more filled-in look, I will add machine shading for a soft powder-filled look. Then, I set the brows with pigment for five to 10 minutes, wipe the brows, and new brows are born!"

Don't be intimidated by your new, darker brows — this is perfectly normal. Expect to peel within 10 to 14 days, after which your brows will be a few shades lighter. Julie says it takes about four to six weeks for the true colour of the brows to appear. Rachael Bebe also performsLip tattoo services
After the appointment, you need to give your brows time to heal. Julie notes that healing time varies per person since everybody recovers differently and have different skin types.
She stresses that post-treatment care is very important. Brows cannot get wet for ten days, so avoid exercising (because of the sweat) and wearing makeup on your brows. Avoid scratching and picking at any scabs.
Though you may have on-fleek brows after the initial appointment, a follow-up appointment is recommended after six to eight weeks. This is to "reinforce missing brow strokes, build colour, and perfect the brow shape," according to Julie. A yearly colour boost is also recommended to keep up with the brow shape.

How much does Microblading Cost?
​Microblading ranges in cost from around 350 dollars to as high as 800 dollars.
The average microblading cost is around $400.

​If you don't know what microblading is, it's the practice of placing pigment with tiny strokes of a "microblade" in a semi-permanent fashion over your existing eyebrows.
The procedure results in beautiful​ and very natural eyebrows that can be customized to your preference.

The "microblade" is really a set of tiny needles that scrap a shallow well into your existing eyebrows that are then filled with a pigment to "dye" the brows.
By semi-permanent, I mean that it lasts around 9 to 15 months, depending on how oily your skin is and how well you follow aftercare instructions. ​

The answer is that you can't put a set price on microblading your eyebrows. There's a number of factors that determine on how much you'll be charged including location, the artist's experience, and the materials they use to perform the service. Still, there is a general price range to give you an idea of how much you'll have to budget for your new brows. "The general price range of microblading usually depends on your location, and can range anywhere from $250-$1000," says Chinchilla. "It also depends on who you go to. Artists that have built a brand are usually the ones that charge more because you're paying for the artist and their reputation of doing flawless brows."

It probably seems like the more you pay, the better the results, but Chinchilla says that isn't always the case. "In my opinion, higher prices don't always mean better results, but they do usually mean that the artist is more experienced," he explains. "Also, its sometimes better to pay a little more because the artist is most likely using better tools and pigments for the procedure."

The cost of micro-blading eyebrows is pricey—most studios charge between $700 and $800 per treatment (but our deals can bring costs down to about $199). Luckily, it's worth the price tag. You may need a touch up here or there, but each morning you'll wake up with thick and full brows, without having to put any work in yourself.

In the Philippines, professional brow artists charge around $ 385 to $ 480 for the treatment. Some clinics can go up to $ 1,540, depending on the kind of brows you are going for.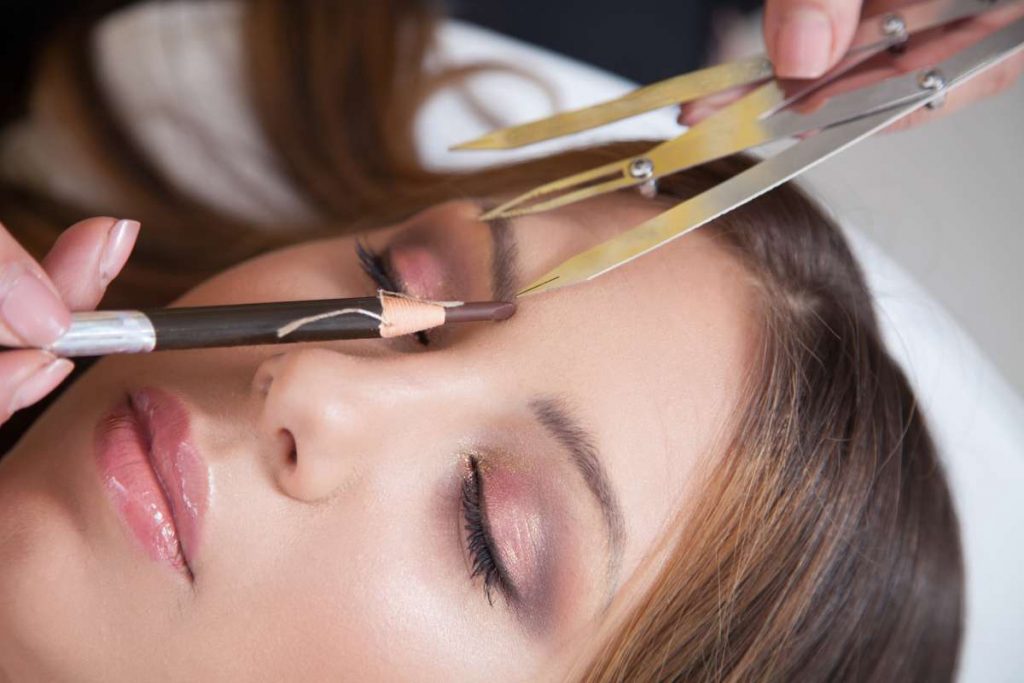 What's Included in the Price
The microblading procedure includes at least twovisits.
And both procedures are equally important for long-lasting brows.
Usually, the microblading price includes both of these visits.
Occasionally you will see microbladers who put a price on their initial visit and then another price for the follow-up or touch up visit.
​If you want long-lasting results, you will need to do both visits.
The initial visit allows for the placement of the pigment, but the touch up "seals" it in making the results last a long time (up to 15 months).
The touch up also gives your artist to make your brows pristine by making any changes that you may not have liked on the initial visit.

So what's included in the price? ​
Initial microblading visit (around 2.5 to 3 hours)
Follow up or touch up visit (around 60 to 90 minutes)

Generally, the cost of microblading includes a consultation to decide on brow shape and tint, a sketch of the shape, numbing the brow area and the actual microblading. "Once we're all done, I talk to the client about what you can expect while healing, along with the dos and dont's of having microbladed brows," says Chinchilla. "The procedure takes about 2.5 hours total, and completely worth it!"
Since microblading is semi-permanent, sometimes touch-ups are needed in-between appointments. Chinchilla says that typically clients will come in six weeks following their first appointment. Depending on where you go, the touch up will be included in the initial price or can cost around $100.
It's understandable that cost is a big factor when it comes to choosing where to get your brows microbladed, but it's more important to do a lot of research on potential artists to make sure the person microblading your brows is experienced enough to customize the brows to your individual face shape.

Is microblading for you?
Julie shares most of the clients that come to her avail of the treatment because they are tired of drawing their brows. Her clientele includes busy moms, hardworking women in the medical field, corporate employees, teachers, and caregivers. But the microblading treatment is also for cancer survivors and men and women who have lost their brow hair due to alopecia (or spot baldness).
Julie does not recommend microblading to people who have skin issues on their brow area, allergies, or those who are prone to keloids. Pregnant and nursing women are advised to hold off their treatments, as well as those who take medication or have any medical issues. Julie says it is crucial to get clearance from a doctor for the procedure.
There are already a number of clinics in the Philippines that offer microblading, but Julie encourages those who would like to have their brows done to do their research and pick the right artist for them. "I have had clients go to me for cover-ups because they were not satisfied with their previous tattooed brows," she shares.
​
How to find the Perfect Artist for You
As I've said before, it's very important that you find the right stylist for you.
Each stylist will have their own way of doing things and will have a certain "style" to their art.

Some artists use stencils, and others create your brows from scratch.
Some artists use dry healing and some use ointment healing.
The list goes on and on.

Each of these factors can slightly impact your results, so it's very important that you find the perfect artist for you.

The single best thing you can do is look at their work and determine if it fits your style.
Reach out to your stylist and ask them what they are comfortable doing to make sure it fits your needs.

As long as you do this before your procedure, you can walk in knowing that your brows will be perfect when you walk out. ​

THE RESULTS
Patience couldn't be happier with her thicker, darker eyebrows. "I am so excited about them! They turned out better than I imagined they would!" she gushes. And her grooming routine is now significantly more comfortable. "I haven't plucked or waxed since, and I haven't filled them in either. They look thicker and filled in without having to do them now!" she says.
So will she get Microblading again? Most clients require a touch-up about 4–12 weeks after the initial appointment, and then after that, they might come in for a more extensive retouch after about a year and a half. Patience says that she will "absolutely" get the treatment again. "I will keep up with them for years and years to come. I am so pleased!"