Are you considering getting an eyebrow tattoo because your eyebrows have turned into your worst nightmare, or perhaps I should say your worst daymare? Are you exhausted with the daily routine of filling in your eyebrows with a pencil? Do you dread going to the pool because you're afraid your eyebrow pencil will get ruined? Or perhaps you have noticed a thinning of your eyebrow hair and are unsure what to do about it.
It is likely because one of the aforementioned opportunities is a good fit for you that you have found yourself on this page. You need not be concerned because you have arrived at the correct location. This post discusses eyebrow tattoos, including the cost, the method, any potential adverse effects, and many more helpful hints.
You are interested in finding out the cost of an eyebrow tattoo will set you back before you go ahead and get one. This tattoo of the eyebrow entails a cosmetic treatment; for some persons, the cost may be prohibitive, while for others, it might not be. Some people believe that getting eyebrow tattoos, which can provide the appearance of well-shaped eyebrows, is an investment that is well worth doing. Some people like to spend money frequently, while others are concerned about spending an excessive amount of money on this eyebrow tattoo. Instead of spending money on brow powder and pencil on a regular basis, there are some inventive and astute individuals who believe that it is a good idea to spend money to get an eyebrow tattoo, which can give an excellent look to your face for an extended period of time and can lessen your expenses in the long run. Looking for a salon that does eyebrow tattoos? Stop looking; Cosmetic Tattoo by Rach has got you covered in every way.
Before estimating how much an eyebrow tattoo will cost, there are a lot of different things that need to be thought about. The following is a list of considerations that need to be made.
Geography is a significant factor to take into account. Because the cost of getting this tattoo varies greatly from one location to the next, it is required that you disclose your place of residence. There are significant variations in the cost of performing this tattoo treatment from one nation to the next, which is another factor that affects the cost. The following list of table provides a comparison of how much money this tattoo would cost in several nations, including the United States of America, the United Kingdom, Australia, and Canada.
In the United States, the price range is between $350 and $550, and the follow-up service costs between $150 and $200. In Australia, the price range is between $480 and $850, and the follow-up service costs between $280 and $350. In Canada, the price range is between $400 and $700, and the follow-up service costs between $200 and $250. In the United Kingdom, the price range is between £359 and 760 pounds, and the follow-up service costs between £100 and 200 pounds. In comparison to the prices in the nations listed above, the price might be higher in wealthy countries, while it might be lower in underdeveloped countries. Prices may change from what was stated earlier.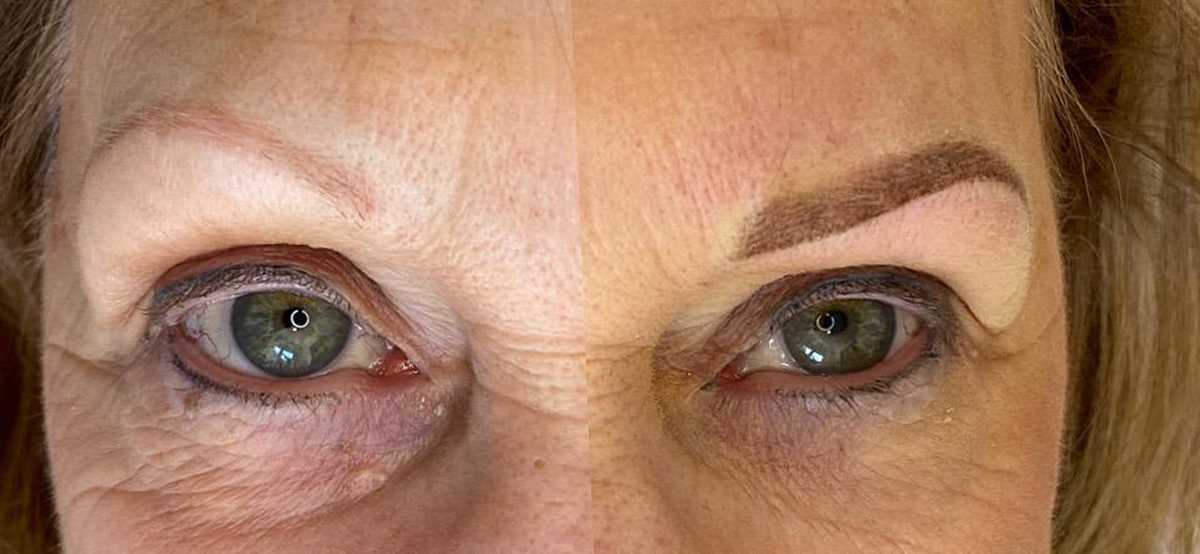 What Exactly Is A Tattoo On One's Eyebrows?
We've all either been exposed to the concept of tattoos or seen visual representations of ink being applied to people's bodies. There is a possibility that we will personally get a tattoo on either our hand or our arm. The only difference is that, during an eyebrow tattoo, the artist will finish the contour of your eyebrows. Additionally, an eyebrow tattoo will have a shorter depth compared to a body tattoo. This means that the pigments will only penetrate the surface of the dermis layer of skin. The eyebrow tattoo is done in such a way that it gives the appearance that your eyebrows are larger and thicker than they actually are.
The ink used for a cosmetic tattoo, also known as pigment, is utilised when creating a permanent design on the eyebrows. This ink is distinct from the ink used for body tattoos. Contrary to the ink used for body tattoos, the molecular composition of cosmetic tattoo ink makes it more likely that it will fade with time.
Because each strand of hair is drawn on separately in 3D and 6D animation, the final product has a more realistic and lifelike appearance. Examine the many eyebrow tattooing options that we provide to find a solution to your difficulties.
There are two distinct types of 3D/6D brows: one is produced by a machine, and the other is drawn by hand. The results of machine drawing are typically more regular and tidy, as well as quite parallel. Drawing anything by hand makes it less predictable, which often results in a more natural appearance. It also depends more on the ability and experience of the person who does your makeup.
The brows that come with Mii Beauty 3D/6D are never drawn by a machine. We adhere to the philosophy that all applications should be hand-written with a unique Micro Needle pen. The most natural appearance for the eyebrow can be achieved by drawing the individual hairs one at a time.
The Procedure:
Semi-Permanent
It is common knowledge that this particular tattoo is thought to be permanent by most people. However, semi-permanent tattoos, such as those used for eyebrows, usually disappear after a certain amount of time has passed. This ink will eventually fade away as the skin ages. If it is a semi-permanent solution, you will require a touch-up session between four and six weeks following the initial treatment. A follow-up touch-up appointment is necessary after one year has passed. It is required of you to perform this maintenance once every one to four years. It's clear that it's not permanent and requires regular touch-ups, which are costly.
Permanent
If you want permanent tattooed eyebrows, you should be prepared to pay between $300 and $500 up front for the service. The annual follow up is significantly more affordable. It is a very small percentage of the total cost. You need to be on guard against this because expenses for touch-ups should never be excessively high. You are required to be aware that the expense of the topical anaesthetic is additional.
Accredited Artist
When you get your eyebrows tattooed by a celebrity or certified artist, it goes without saying that they will charge you significantly more than a regular artist would. A higher fee will be expected from the artist if he or she is a certified cosmetic tattoo practitioner. The various artists have obtained this certification in accordance with the rules and regulations of their respective resident countries. Certified artists always use a tried and true approach to ensure everyone's safety during these steps. Always choose the option that is safest, especially in terms of your health.
Before you think about any of the options above, you should get in touch with an artist in your area to obtain an accurate estimate of how much these eyebrows will cost.
Cosmetic Tattooing Eyebrow Prices
The cost of getting a tattoo in Australia can range anywhere from $450 to $850 on average. When it comes to sessions that are considered to be follow-ups, clients will pay anything from $450 to $850 per hour. This demonstrates how dynamic the industry of cosmetic tattooing has developed in recent years. Providing these services requires proper training from a licenced educator. You can earn your technician certification and improve your skills in this way. This rich industry is starving for professionals that can provide services of the highest quality. Trainees have the opportunity to improve their abilities in this regard. A good move would be to enrol in Aid to Beauty Training, which is a programme that has earned national accreditation. This institution specialises in cosmetic tattooing and is a certified training organisation (RTO 45265). What are the advantages of enrolling in this institution? Check out the eyebrow tattoo page, which contains all the information you may possibly need close to you.
The price of getting an eyebrow tattoo in Perth, Western Australia, typically ranges from $450 to $950. However, if you want some important advise from us regarding pricing, here it is: Your eyebrows are a distinguishing element of your face that serve as a framing for your eyes. Therefore, you should spend prudently on them and avoid going to the lowest place possible.
Please consider the clinic's portfolio, hygiene, and tattoo artists' skill and experience. Check out this page by the Australian Department of Health for more information about healthy body art, which includes semi-permanent makeup.
Eyebrow Tattoo Sample:
All brow pricing include consultation, shape, topical anaesthetic, and initial tattoo.
$685 Eyebrow 3D Feathering

$685 Eyebrow Powder Finish

$795 Eyebrow Hybrid

$80 Eight weeks follow up touch up
MCT's Eyebrow Refreshers are half price for the first 24 months.
Procedures without tattoos:
$90 Total Eyebrow Makeover

$75 Eyebrow Threading

$430 Feather Brows

Semi-permanent feather touch microbladed eyebrows. We recommend a 4-7 week touch-up.

$195 Touch-ups

Colour refills are $250 with in the first 1 year, $450 for anything after a year.
Premium Eyebrow Tattoos Are Available.
Your success in obtaining the appropriate certification and level of expertise is Aid to Beauty Training's top priority. As a consequence of this, providing these services to your clientele will result in increased profits for your business. Those individuals who do not possess the necessary education or qualifications do not have the privilege of demanding extra costs for eyebrow tattoos. As an outcome, technicians can further their professions. You can improve your profits even further by offering a greater choice of tattooing services to your customers. This institution offers a wide variety of programmes, ranging from advanced lip and brow seminars to paramedical training. When you increase the breadth of your skill sets, you automatically open the door to a larger pool of potential customers.
Is It Possible To Get A Tattoo On Your Eyebrow? Microblading? Micropigmentation? Which One Is It?
Are You Completely Baffled? You have every right to feel the way you do. There are thousands of articles available online, each of which provides you with different information; if we were you, we'd be bewildered. On the other hand, we are going to put an end to this matter for you once and for all. Tattooing refers to any procedure that involves putting colour into your skin in some way. Both microblading and micropigmentation, sometimes known as nano brows, are forms of eyebrow tattooing, but each requires a unique set of instruments and may only be performed under specific circumstances. Whether you're interested in eyebrow microblading, eyebrow feathering, or eyebrow hair stroke tattooing, our comprehensive assortment of eyebrow tattoo services is here to assist you.
How Is The Tattoo On Your Eyebrows Applied?
The process of getting an eyebrow tattoo often takes place over the course of numerous sessions (one or two sessions). It is possible that at first it may sound daunting; nevertheless, once these sessions are finished, you will be able to enjoy your new on flick eyebrows for a good one year and half months; yes, that is correct; you will no longer need an eyebrow kit.
Procedure For The Eyebrows:
Consultation Of The Eyebrows
To begin the process of getting your eyebrows tattooed, you will first need to schedule a consultation appointment. There are certain clinics that offer this service while others do not; nonetheless, if you want our opinion, you should be wary of the clinics that do not provide any sort of consultation before to the tattoo session. This is semi-permanent makeup that will last less than a year. Therefore, it is not unreasonable to talk with the tattoo artist in order to confirm the material and tools that they use, the shape of the eyebrows that they recommend, as well as the colour of the eyebrows that they suggest for you.
Eyebrow Drawing
The second step is actually getting the tattoo on the designated day. In most cases, the final form of the eyebrow will be drawn by the tattoo artist around the one that is already there. As you draw the lines, you will get an idea of what the final product will actually look like. This is the opportunity to check in with your artist if you have any questions or concerns, or even if you simply have second thoughts.
Tattooing Of The Brows
And last but not least, the eyebrow tattooing process itself, which is obviously the most crucial stage. Before beginning the operation, certain medical facilities perform a pre-numbing. On the other hand, this can cause the skin to grow more rigid and puffy, which would make the surgery more difficult.
Instead, some medical facilities begin the process without first numbing the area, and after a few passes, they apply a numbing lotion to the affected area. This strategy has an effect on the overall product, making it more accurate in the process.
The primary procedure begins as soon as the numbing cream begins to take effect, which should not take more than a few of minutes. At this point, the customer will have the opportunity to choose the shape and pattern of their new eyebrows. In a typical scenario, this process can take anywhere from one to two hours.
Eyebrow Polishing, Often Known As A Touch Up
And finally, but certainly not least, the session for final touches. In most cases, the colour will begin to fade to some degree within the first month after the eyebrow tattoo process has been performed. This duration varies for various clients depending on the complexion of their skin and the colour of their hair. Because of this, in addition to the main session, there could need to be another session. This session is sometimes referred to as the "perfection" or "touch-up" session.
Adjusting the colour of the brows and making any required adjustments to the contour of the brows in order to achieve a flawless appearance is included in eyebrow touch up.
Other Salon Eyebrow Services: 
Ombre Brows
Ombre brows are a new semi-permanent cosmetic that can give you Instagram-worthy brows. Combining hues of the same colour creates these brows. This look uses simulated cosmetics instead of artificial hairs like feather-touch brows. The technician fades the brows. This style is darker in the brow tails and lighter in the centre. With minimal maintenance, the ombre brow can last up to two years.
This procedure is quite adaptable to the specific needs of each individual, and it may be used to not only contour the brows but also provide the ombre look that is wanted. Because pigments, instead of traditional inks, are employed in the process, the technician is able to adjust the colour of the tattoo to better complement the individual's hair colour and skin tone. The outcome is an appearance that is more solid than the one that is achieved by the conventional feathering method; nevertheless, the thickness can be customised based on the individual's desire.

Eyebrows Microblading
Microblading is the most recent advancement in the field of eyebrow tattooing, and it is also referred to as Feather touch brows, Eyebrow Feathering, Eyebrow Embroidery and 3D Brows, The end result should be brows that have a natural appearance but have been sculpted into a form that complements your features.
This will take three hours. Melissa is a perfectionist, so she measures the length of your eyebrows using the golden ratio. Melissa has many eyebrow measurement tools, so the process is quick. Customers can choose a new brow shape at their leisure.
Microblading is also known as Feather Touch Brows, Eyebrow Tattooing, Eyebrow Embroidery, or 3D/6D Eyebrows. To produce natural-looking hair strokes, a brow artist needs precision and ability. This is the best semi-permanent eyebrow makeup.
Eyebrows, Eyelash, Tinting And Waxing
Your eyebrows have the potential to look bushy and untidy if they are not properly maintained on a regular basis. Your appearance can be improved by carefully shaping and grooming your eyebrows. This gives you a more put-together look. In most cases, a woman's appearance will be noticeably improved even in the absence of any cosmetics if she takes the time to properly groom her eyebrows. When you put down the tweezers and give the job of shaping your brows to a trained professional, you might be surprised at the dramatic changes that can be made. Visits to the salon should be scheduled every three to six weeks, depending on how quickly your natural hair grows. Before removing or colouring brow hair, Melissa must understand what the customer wants. Melissa will chat with you first before doing either of those things.
Lifting And Tinting Of The Lashes
People who have naturally long lashes but don't like the look of extensions may find that lash lifts are a good alternative. Lash lifts continue to seem natural for the duration of your natural lash cycle. If you are going to be receiving this treatment, we ask that you come in without any mascara on. 
3d And 6d Natural Eyebrows (100 Percent Manual Technic)
The very first natural 3D and 6D brow surgery. Over 5000 patients in Australia have benefited from 3D/6D natural brow surgery, which has been performed successfully.
It is necessary to have expert-level knowledge, skills, and expertise in a variety of treatments in order to perform a 3D/6D cosmetic eyebrow tattoo. This is due to the fact that these techniques are the most difficult to perform. In addition to this, a knowledge and understanding of colour and skin are required. When applied by someone who is not an expert, 3D and 6D effects frequently cause the colours to fade and become less vibrant. Additionally, there is a possibility that the needle will cause adverse consequences such as severe scarring.
Should You Get a Tattoo Between Your Eyebrows? that Is the Question.
An explanation of all you need to know about eyebrow semi-permanent makeup. You are aware that now:
Both microblading and micropigmentation are types of tattooing processes, although they are carried out using distinctively different tools.

You can get feather, powder, or mixture eyebrows by using either of these two methods.
You may be wondering if tattooing your eyebrows is the best solution. We recommend:
If your eyebrows are sparse or not shaped the way they should be,

Whether or not you feel compelled to bring your eyebrow kit with you wherever you go.

If you are a lady who works or a mother who is always on the go and never has enough time to properly fill in your eyebrows, this product is for you.

If that's the case, we recommend eyebrow tattoos for you.