Looking into eyebrow tattooing because your eyebrows have become your nightmare or better say your daymare? Are you tired of filling your eyebrows with pencils every day? Do you fear going to the pool and ruining your pencil filled eyebrows? Or maybe you suffer some eyebrow hair loss and don't know what to do with it?
If any of the mentioned above is right for you, that is probably why you have ended up here. Well fear not, you are in the right place. In this article, we are going to tell you everything you need to know about eyebrow tattooing, its procedure, its price, side effects and many more tips.
You wish to know the cost of eyebrow tattoo before you get it done to your eyebrows. This eyebrow tattoo involves the cosmetic procedure for some people it would be expensive for some it may not. Some think that spending money on eyebrow tattoos which can give perfect and well-shaped eyebrows is worth it. Some wish to spend money regularly, thinking not to spend too much money on this eyebrow tattoo. Some creative and smart people believe that it is a good idea to spend money to get an eyebrow tattoo which can give an excellent look to your face for an extended period rather than spending money often for buying brow pencils and brow powder. Looking for eyebrow tattoo salon? Look no further,Cosmetic Tattoo by rach got you covered.
There are many factors to be considered before you tell the cost of eyebrow tattoo. Below are some factors we must consider.
A major consideration is geography. It is compulsory to know where you reside because different places have a different price for this tattoo. The cost also varies from country to country, where you can find major differences in the price of this tattoo procedure. Below is the price table of this tattoo that costs in countries like America, the United Kingdom, Australia and Canada.
In the United States it costs between $300-$500 and Follow-up $100-$150) in Australia it costs between $400- $800 and Follow-up $200- $250) in Canada it costs between $400 – $700 and Follow-up $200-$250) and in the United Kingdom it is between £359 – £760 and Follow-up £100-£200). If you go to rich countries the price may be more and in developing countries price may be less compared to the price for the above countries. Mentioned above prices may fluctuate.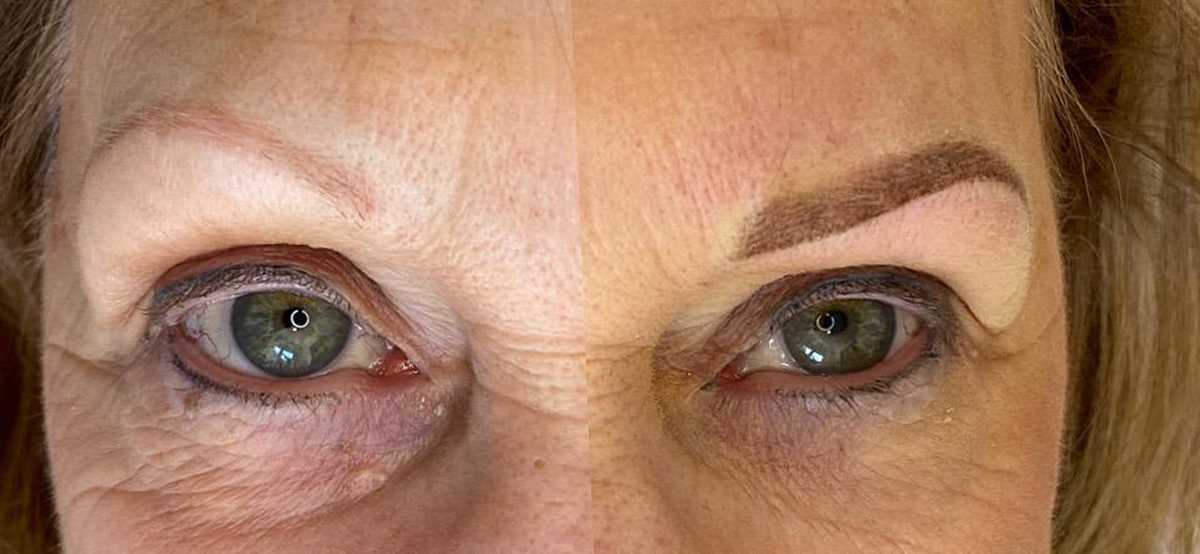 What Exactly Is An Eyebrow Tattoo?
We've all heard of tattoos or seen pictures of tattoo designs on people's skin. We may even have a tattoo drawn on our hand or arm ourselves. An eyebrow tattoo is the same, only in it, the artist completes your eyebrow shape and with a shallower depth compared to body tattoo, meaning the pigments penetrate the surface of the dermis layer of skin. The eyebrow tattoo is done in a way that makes your eyebrows look fuller and thicker.
An eyebrow tattoo is also done with a material different from body tattoo ink; this material is called cosmetic tattoo ink or pigment. In contrast to body tattoo ink, Cosmetic tattoo ink will eventually partly fade due to its molecular structure.
3D/6D means that each strand of hair is drawn on individually, giving a result that appears more natural.Check out our range of eyebrow tattoo services to help with your problems. 
There are two styles of 3D/6D brow, one is machine drawn, and one is hand-drawn. Machine drawn is more uniform, and usually quite parallel and cleaner. Hand drawn is somewhat less predictable, which tend to make it look more natural. It also depends more on the skill and experience of your makeup artist.
The Mii Beauty 3D/6D brows are never machine drawn. We believe in 100% hand-drawn applications with a special Micro Needle pen. Draw the individual hairs one at a time gives the most natural look for the eyebrow.
Understanding what exactly this procedure is:
Semi-permanent
It is a known fact that this tattoo is generally considered permanent. But when it comes to semi-permanent tattooed eyebrows tend to fade over some period of time. As skin ages, this ink gradually droops. If it is a semi-permanent one, then you need a touch up after 4-6 weeks of the first procedure. You would also need a follow-up touch up after one year. It is compulsory that you should maintain this every 1-4 years. It is clear that it is not permanent and needs regular touch-ups which incur expenses.
Permanent
It is permanent tattooed eyebrows then you would be spending $300-$500 as an upfront free. Annual follow up costs very less. It is a fraction of the original cost. Touch-up costs should never be expensive; you must be wary of this. You must know that topical anesthetic is an additional cost.
Certified artist
If you get your tattooed eyebrows done from certified or famous artists, then it is obvious that they charge more than what normal artists do. If the artist is an accredited cosmetic tattoo professional, then he will charge more. The different artist has this certification as per their resident countries rules and regulations. Certified artists follow a good method of this procedure for safety. The safe method always is good, especially health-wise.
Before you consider anything above please contact your nearby artist to get the right price of this kind of eyebrows.
Eyebrow Tattooing Prices in the Cosmetic Tattooing Industry
On average, the eyebrow tattoo price in Australia is between $400-$800. When it comes to following up sessions, clients will pay anything from $400 to $750. This goes to show how vibrant the cosmetic tattooing industry has become. If you are interested in offering these services, it is important for you to be trained professionally. This way, you will become a certified and competent technician. This lucrative sector is hungry for experts who deliver high-quality services. In this respect, trainees can enhance their skills. Joining a nationally accredited school like Aid to Beauty Training will be a great step. This cosmetic tattooing school is a registered training organisation (RTO 45265). What are the benefits of joining this school?Check out eyebrow tattoo page which has everything you might need near you.
Eyebrow tattoo price in Perth, Western Australia normally starts from 400 dollars to 900 dollars. But when it comes to price, take vital advice from us: Eyebrows are the frame to your eyes and a distinct feature of your face. So spend wisely on them and don't choose the cheapest place.
Please pay attention to the clinic's portfolio, their hygiene and the tattoo artists' expertise and experience. Also, check out this information page on Healthy body art, including semi-permanent make up by the Australian Department of Health.
Sample Eyebrow Tattoo Service: 
All of our brow prices include consultation, shaping, topical anesthetic, initial tattoo procedure.
Eyebrow 3D Feathering……….$675
Eyebrow Powder Finish……….$675
Eyebrow Hybrid………………….$750
Eight weeks follow up touch up .. $50
Eyebrow Refreshers would be half price within the first 24 months if MCT performed your initial procedure.
None-Tattoo Brow Procedures:
Total Eyebrow Makeover ……$70
Eyebrow Threading……………..$50
Feather Brows  …………………$ 400 
Microbladed Eyebrows using the feather touch tool with semi-permanent pigment. We recommend at least one touch up session 4-6 weeks later 
Touch-ups …………………………$ 180 
Colour refills are $200 with in the first 12 months, $400 for anything after 12 months
You can set and enjoy premium eyebrow tattoo prices.
Aid to Beauty Training will ensure that you get the right certification and competency. As a result, offering these services to your clientele will give you premium returns. Those who don't have the right training or qualifications do not have the privilege of charging higher eyebrow tattoo prices. Therefore, it is a great way for technicians to set the bar in their career. Also, you will increase your income by providing a wider variety of tattooing services. This school has an array of courses ranging from paramedical to advanced lip and brow workshops. When you expand your skill sets, you can only draw in a wider base of clients.
Eyebrow tattoo? Microblading? Micropigmentation? Which is which?
Terribly Confused? You have every right to be. Thousands of articles online giving you different information on each, we'd be confused too. But we're going to settle this issue for you once and for all. Any technique injecting colour to your skin is a form of tattooing. So technically microblading and micropigmentation AKA nano brows are both eyebrow tattoo techniques done with different tools and conditions. Our exclusive range of eyebrow tattoo services  will help you in eyebrow microblading, feathering or hair stroke eyebrow tattooing procedures. 
How is eyebrow tattoo done?
An eyebrow tattoo is actually a multiple session (one or two sessions) process. It may even sound overwhelming at first, but once these sessions are over, you may enjoy your new on flick eyebrows for a good 8 to 15 months, that's right, no eyebrow kit necessary anymore.
Eyebrow procedure steps:
The first step to getting your eyebrows tattooed is to have a consultation session. Some clinics do it, and some don't, but if you want our advice, stay cautious of the ones that don't give any consultation prior to the tattoo session. After all, this is a semi-permanent makeup and will be part of your face for at least 8 months. So it is pretty reasonable to consult with the tattoo artist to make sure of the material and tools they use, the eyebrow shape they suggest and the eyebrow colour they recommend for you. 
The second step is actually the very tattoo day itself. The tattoo artist will usually draw the final shape of the eyebrow around your current one. The lines are drawn to show you what the actual end result will look like. If you have any doubts or have simply gotten cold feet, this is the time to check with your artist.
And of course the most important step, the eyebrow tattoo job itself. Some clinics use pre-numbing before starting the procedure. However, this could cause the skin to become firm and swollen, and the procedure to become harder.
Instead, some clinics start the procedure without numbing, and after a few passes, they use a numbing cream. This method also affects the final result and makes it more precise.
After the numbing cream kicks in (which shouldn't take more than a couple of minutes), the main process starts, and the artist draws the eyebrow shape and pattern chosen by the customer. Usually, this process can take up about 1:30 to 2 hours.
Eyebrow perfection AKA touch up
And last but not least, the touch-up session. Usually, after the eyebrow tattoo procedure, the colour will fade to some degree in the first month after. This time varies for different clients based on their skin type and hair colour. Therefore another session might be required besides the main session. This session is known as the perfection or the touch-up session.
Eyebrow touch up includes adjusting the eyebrow colour and also applying necessary changes to eyebrow shape to make it perfect.
Other Eyebrow Services You Can Avail At Salons Near You: 
OMBRE BROWS
Ombre brows are a new style of semi-permanent makeup that can be used to help you achieve those lust-worthy beautiful brows you see all over Instagram. This style features simulated makeup rather than simulated hairs like you find in feather-touch brows. The technician fills in the brows with a faded technique that starts darker in the brow tails and becomes lighter towards the centre. The result is bold and beautiful ombre brows that can last up to 2 years with minimal maintenance.
This process is highly customisable to the individual and can be used to both shapes the brows as well as provide the desired ombre effect. Because pigment is used rather than traditional inks, the technician can tailor the hue to the individual based on their skin tone and hair colour. The result is a more solid look than the traditional feathering procedure, although the thickness can be customised depending on personal preference.
EYEBROWS MICROBLADING
Offering the latest Eyebrow Tattooing Technique Microblading, also known as Eyebrow Feathering, Feather touch brows, 3D Brows, Eyebrow Embroidery. The goal is to give you natural-looking brows with a defined shape to compliment your facial features.
This takes around three hours to complete. Melissa is a complete perfectionist, so most of this time is taken with measuring your eyebrows using the golden ratio technique, Melissa has a large range of eyebrow Measuring apparatus, so it often doesn't take that long. However, clients have the option to take their time choosing their new brow shape if needed.
Microblading (also known as Eyebrow Tattooing, 3D/6D Eyebrows, Eyebrow Embroidery or Feather Touch Brows) is used to create very naturally, realistic eyebrows. It's like art, to achieve fine natural looking hair strokes you have to have precision and good technique as a brow artist. This gives the best results when it comes to semi-permanent makeup eyebrows.
EYELASHES, EYEBROWS AND WAXING ,BROW STYLE / WAX & TINT
Without regular maintenance, your eyebrows can appear bushy and unkempt. A well-groomed brow can create a polished look that enhances your appearance. Even without a drop of makeup, a woman with well-kept eyebrows will typically appear more clean and refined. You'd be amazed at the brow transformations that can happen when you put down the tweezers and hand them over to a professional. We recommend coming in every 3-6 weeks depending on how quick your natural hair growth is. Melissa will consult with you before removing any brow hair and applying any tint, and it's important to understand what the client wants and what's achievable.
LASH LIFTING AND TINTING
Lash lifts are a great option for those with naturally long lashes that don't like extensions. Lash lifts last as long as your natural lash cycle does. If you are coming in for this treatment, please come without mascara on.
3D/6D natural eyebrows professional treatment (100% Manual technic)
The first 3D/6D natural brow surgery. 3D/6D natural brow surgery has been successfully applied in over 5000 cases in Australia.
Because 3D/6D is a most difficult technique type of cosmetic eyebrow tattoo, it requires specialist knowledge, skill and experience in several procedures. It also requires knowledge and expertise in colour and skin.
Non-expert 3D/6D application often results in colour fading and discolouration. There is also a risk of the needle causing side effects such as deep scarring.
Conclusion, should you get an eyebrow tattoo?
So there you have it: all the details on eyebrow semi-permanent make up. Now you know that:
Both microblading and micropigmentation are forms of tattooing techniques done with two different devices.

Both techniques can give you feather, powder or combination eyebrows.
Now you might wonder if eyebrow tattooing is really the right path for you. 
Here's what we recommend:
If your eyebrows are thin or not properly shaped

Whether you are forced to take your eyebrow kit everywhere with you 

If you are a working woman or a busy mom who never has enough time for filling eyebrows properly.
Then we suggest eyebrow tattoos for you.