The arch of the brow is an important component in the overall attractiveness of the face. Eyes are brought to the forefront of attention while the upper face is beautifully framed by the brows, which can vary in form, fullness, and symmetry. Microblading is a non-invasive procedure that may rapidly enhance the appearance of the eyebrow area. If you have sparse or patchy eyebrows, this treatment may be right for you.
The popular eyebrow augmentation method known as microblading increases the thickness, shape, and definition of the brows. Microblading has been increasingly popular in recent years. Microblading is a method that mimics the look of natural eyebrow hair by depositing dye into the second dermal layer of the skin using a specialised hand-held equipment that is equipped with a specific blade. This produces very thin strokes that give the impression of natural eyebrow hair.
People frequently have the misconception that microblading is a form of tattooing. Microblading and tattooing the eyebrows are two completely different processes, despite the fact that their names may seem same. Permanent cosmetics, such as tattooed eyebrows, might give the impression of being a fantastic idea that will save time. The ability of permanent cosmetics to provide the appearance of eyebrows without the use of pencils or brushes may sway the decision of some women who have brows that are either nonexistent or very sparse. However, there are certain drawbacks associated with permanent makeup, and it is important to consider these in conjunction with the benefits before making a choice. Check out the eyebrow tattoo page, which has all the information you may possibly need close to you.
Frequently Asked Question
Do you shave your eyebrows before getting them tattooed?
Therefore, the answer to whether you need to shave your eyebrows before tattooing is an unequivocal no. The same applies to the laser tattoo removal procedure. It is not allowed to traumatize the skin before the removal.
How painful is eyebrow tattooing?
On a scale of one to ten, it was about a five," Parkes asserts. "It felt like a bunch of little paper cuts and was an uncomfortable feeling." However, clients are often given the option of using a numbing agent during the process.
Which eyebrow tattoo lasts the longest?
Microblading eyebrows lasts 1 to 2 years. Eyebrow tattoos last forever. Regular eyebrow tattoos last a lifetime, but with microblading, ink is not placed as deep underneath the skin.
What happens when you have your eyebrows tattooed?
The microblading technique uses a specialized hand-held tool with a unique blade to deposit dye into the second dermal layer of the skin, creating very fine strokes that mimic the appearance of natural eyebrow hair. People often think microblading is a type of tattoo.
What should I avoid before tattooing eyebrows?
Do not pluck, wax, thread or tint your brows for up to 3 days before your brow treatment. Do not tan two weeks prior or have sunburned face. Do not have any type of facial/peel 2 weeks prior to treatment. Discontinue Vitamin A/Retinol products one month prior to treatment (these treatments thin the skin considerably).
The First And The Most Shocking Thing You Need To Know
It is possible to perform microblading on paying customers in any part of the United States without having to obtain any sort of certification. Do yourself a favour and look it up.
It is possible for each state to have its own set of regulations pertaining to cosmetic tattooing, and the vast majority of states do (i.e. certification, licencing and insurance requirements).
But keep in mind that in the United States, it's still the wild west. You need to watch out for yourself first, and as our specialists will tell you again and again, you should do your own research. Because of reason, this article will serve as a helpful resource for information regarding the safety concerns associated with microblading.
We will discuss the lack of concern shown by the government in the safety of pigments towards the conclusion of the essay.
What Is Brow Tattooing?
The art of tattooing the brows is quite similar to that of traditional tattooing.
In this approach, the esthetician will use needles and will use a lot of tapping movements to penetrate the skin. The tapping motions will cause the needles to go deeper into the skin.
They will proceed to transfer the ink into the skin in this manner, which will result in a more long-lasting mark.
When you want to produce fullness and thickness in the centre of your brow, brow tattooing is often a smart choice. However, brow tattooing is not suggested when you want to define your brows.
Additionally, you may make your tattooed brows endure for the rest of your life (as a normal tattoo would).
When it comes to tattooing your brows, there are three distinct textures from which you may select the one that best suits your preferences.
Whether you're interested in eyebrow microblading, eyebrow feathering, or eyebrow hair stroke tattooing, our comprehensive assortment of eyebrow tattoo services is here to assist you.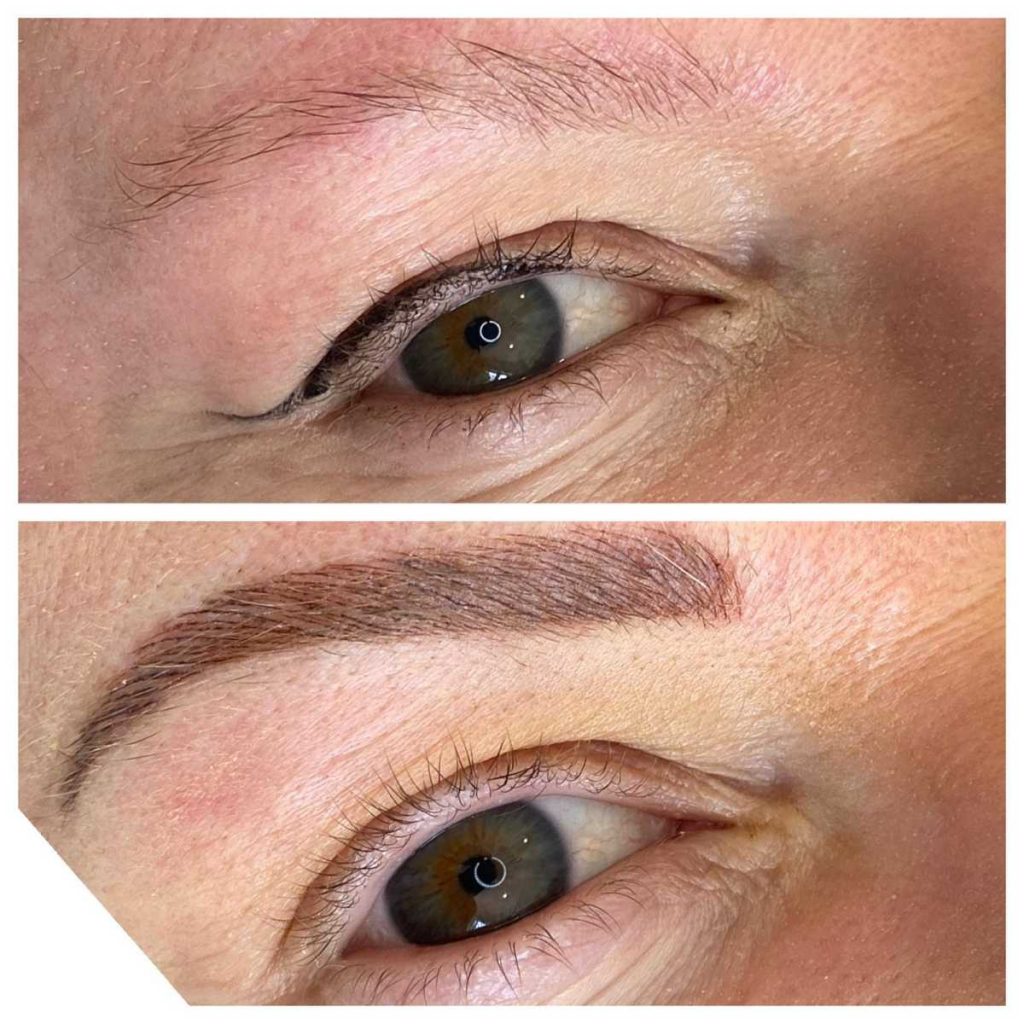 Tattoo ink is used to fill in the form of the eyebrow, creating the illusion of a fuller and neater brow. Eyebrow tattoos are pretty much exactly what they sound like: they fill in the contour of the eyebrow. They are common because to the fact that eyebrows are a very significant component of one's facial appearance and have the power to dramatically transform an individual's look. Tattooing one's eyebrows may be a game-changer for persons who struggle to grow full, thick brows due to medical conditions such as alopecia, since it can dramatically enhance their look. It is hard to overstate the significance of having well-groomed eyebrows.
Temporary vs. Permanent Eyebrow Tattoos
There are two distinct categories to choose from when it comes to eyebrow tattoos: temporary and permanent. The appearance of larger eyebrows may be achieved with the use of temporary tattoos, which are really just stickers that are applied over the brow region. They typically only remain in place for a few of days and are simple to remove. Because of this, it is quite simple to test them out without making any kind of commitment, and it is able to play with a wide variety of styles.
Permanent eyebrow tattoos, on the other hand, are genuine tattoos that are done by a trained specialist. These tattoos last a lifetime. They are likely to fade and change colour with time, and touch-ups may be required, but in the end, just like any other tattoo, they are designed to last a lifetime. Before ever considering starting the actual tattoo, a skilled eyebrow tattooist will take great care to explain you through the procedure in great detail and will provide you with the opportunity to test out mock-up versions of the eyebrows.
Benefits of eyebrow tattoos
If you wake up with your eyebrows already filled in, getting eyebrow tattoos is a great time saver for anyone who typically applies a lot of brow makeup since you may wake up with your eyebrows looking exactly the same.
When compared to the expense of purchasing eyebrow cosmetics, they can really save money by doing so as well.
Permanent eyebrow tattoos, in contrast to cosmetics, can not smudge or smear, which means that you do not need to worry about your eyebrows while you are sweating or in damp conditions. This also means that you may have permanent eyebrow tattoos.
People who have lost their eyebrows as a result of medical diseases or treatment, scars, alopecia, or other difficulties may find that eyebrow tattoos are ideal for them.
You have the option to receive the eyebrow shape that is most complimentary to your face and eye shape when you have an eyebrow tattoo because the procedure is performed by a trained specialist.
In contrast to the majority of other cosmetic procedures, which don't truly show results until after a significant amount of time has passed for the healing process, the effects of getting an eyebrow tattoo are visible right away.
Drawbacks of Eyebrow Tattoo
However, there are also disadvantages to eyebrow tattoos, and not all customers are happy with their new tattoos.
The fact that they cannot be removed is unquestionably the most significant drawback. Regardless of whether or whether you change your mind about the form after a year, you will be required to accept the consequences of your decision.
There is a possibility of an error being made by your technician. Because not everyone is equally qualified or careful, you run the risk of having a horrendous error made to one of your eyebrows. First things first: scrutinise the prior work of your professional!
Eyebrow tattoos can cause discomfort, just like any other type of tattoo.
Getting a tattoo in the brow region may also be pricey, costing up to $500 in certain cases, not to mention the additional cost of touch-ups in the future.
It is possible that your tattoos will not fare well with the passage of time, particularly when the skin around your eyes begins to droop and wrinkle.
Because it is impossible to conceal your eyebrows while they are mending, the healing process may be rather embarrassing. There is a chance that there may be a lot of redness and even scabs, and the first colour will be considerably darker than the ultimate outcome, so your eyebrows may seem fairly shocking for a few weeks after the procedure.
When you get your eyebrows tattooed, you are committing to the colour permanently, which might make it difficult to change other aspects of your appearance, such as the colour of your hair.
Eyebrow tattoos do require upkeep once a certain amount of time has passed, since the colour will eventually shift and fade.
Why Should You Get Your Brows Done?
The brows complete the overall appearance of the makeup by lending the face a certain degree of definition as well as depth. In the past two years, thick eyebrows have emerged as a major trend, and women all over the world have begun to prefer them to the wacky thin eyebrows that were popular in the 1960s. View further information about our eyebrow tattooing services.
Unfortunately, not everyone is endowed with thick, lush brow hair, and as a result, some women resort to microblading or even brow tattooing to fill in the gaps.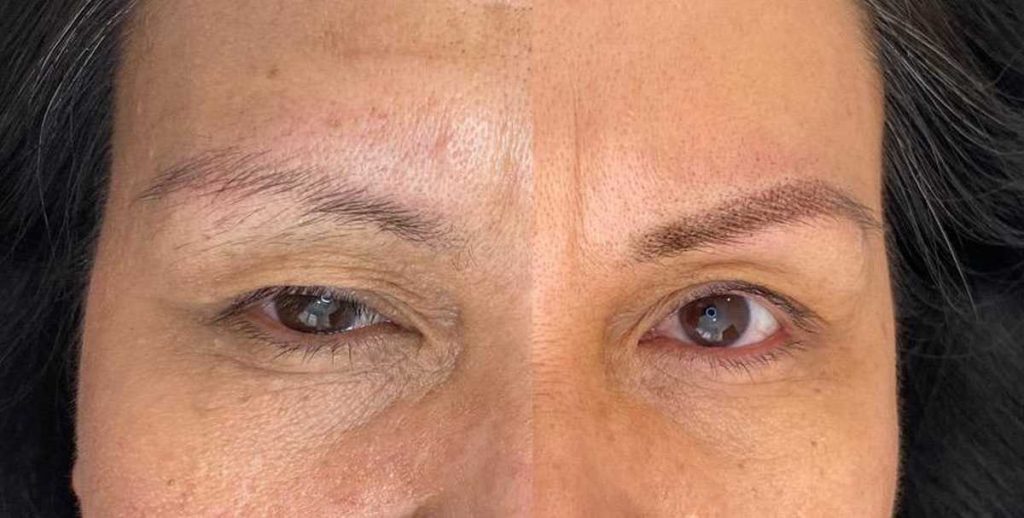 Some skin types retain ink better than others.
According to Tai, very oily skin types are the most challenging to work with because of their greasiness. "They run the risk of rejecting the pigment, and what's more concerning is that they are prone to pigment hydration," which is when the pigment fans into each other, the strokes sort of blend, and it ends up looking more like a powder-filled brow than it does like distinct strokes. "They are at risk of rejecting the pigment, and what's more concerning is that they are prone to pigment hydration."
If you have a history of quickly developing scars or keloid deposits, you should probably avoid having this operation done. However, Tai is of the opinion that the augmentation is still useful, even in the event that the outcomes are not optimal for your skin type.
Different Types Of Tattooed Eyebrows
A defined brow with sharper lines is referred to as having a crisp brow. Looks a much like a marker did it.
Powdered Brow is perfect for ladies who already have some structure to their brows because it just fills across the centre.
This style is quite similar to microblading, despite the fact that the technique takes a lot more time. It's called hair-like brows. Although the line might not be as accurate or straight as it is with microbladed eyebrows, the end result is pretty comparable to how it is with microbladed eyebrows and is quite soft.
The Difference In The Processes
The procedure itself is quite similar to that of tattooing; however, the primary distinction lies in the fact that microblading involves sketching by hand, whereas tattooing is performed using a machine.
Pros & Cons of Permanent Eyebrows
Permanent cosmetics, such as tattooed eyebrows, might give the impression of being a fantastic idea that will save time. The ability of permanent cosmetics to provide the appearance of eyebrows without the use of pencils or brushes may sway the decision of some women who have brows that are either nonexistent or very sparse. However, there are certain drawbacks associated with permanent makeup, and it is important to consider these in conjunction with the benefits before making a choice. Looking for a salon that does eyebrow tattoos? Stop looking; Cosmetic Tattoo by Rach has got you covered in every way.
Pro: Time
Getting permanent eyebrow tattoos can cut down on the amount of time you spend applying cosmetics each day. When applying makeup to your brows, it takes some time to first draw them on with an eyebrow pencil and then fill them in with eyebrow correctors. This process can be time-consuming. Getting your brows tattooed eliminates the need for that step in your daily cosmetic process.
Con: Pain
Everyone who has ever gotten a tattoo can relate to the fact that getting one is not without some degree of discomfort. The procedure of getting permanent eyebrows tattooed on the sensitive skin that sits above the eyes may be rather excruciating. However, the discomfort is just temporary because shaping the eyebrow is a rather straightforward and speedy process.
Pro: Defined Face
Due to the fact that they help define a person's features, permanent eyebrows are quite popular. A properly positioned and formed brow may make the face appear slimmer and more refined, and it can even assist in giving the impression that the eyes are more expansive. It's possible that some women will decide to have their natural brows completely removed in favour of permanent ones that are simpler to care for and keep in good condition.
Con: Changing Styles
Your permanent eyebrows may look dated and unattractive in the future if you decide to change the form of your eyebrows even though the shape that you pick now may be very much in style. The beautiful arch of the brow was always considered to be the height of elegance, but in recent years, the fashion has shifted towards brows that are fuller and less well groomed. Choosing a single form for the brows may be fashionable now, but that won't always be the case.
Pro: Hair Loss Correction
A disorder known as alopecia causes some people to lose all of the hair on their body, including the hair from their eyebrows. This ailment can affect both women and men. Permanent cosmetics may help them repair their eyebrows by giving them the correct colour and form, which will assist to disguise the problem. This can be accomplished by giving their eyebrows a new look.
Con: Infection and Sensitivity
When you get your eyebrows tattooed, you run the risk of getting an infection and having other difficulties thereafter. After undergoing this procedure, there is a possibility that some women will acquire keloids, which are raised scars. It is possible that this will not be the best option for you if you have a history of having sensitive skin or scars.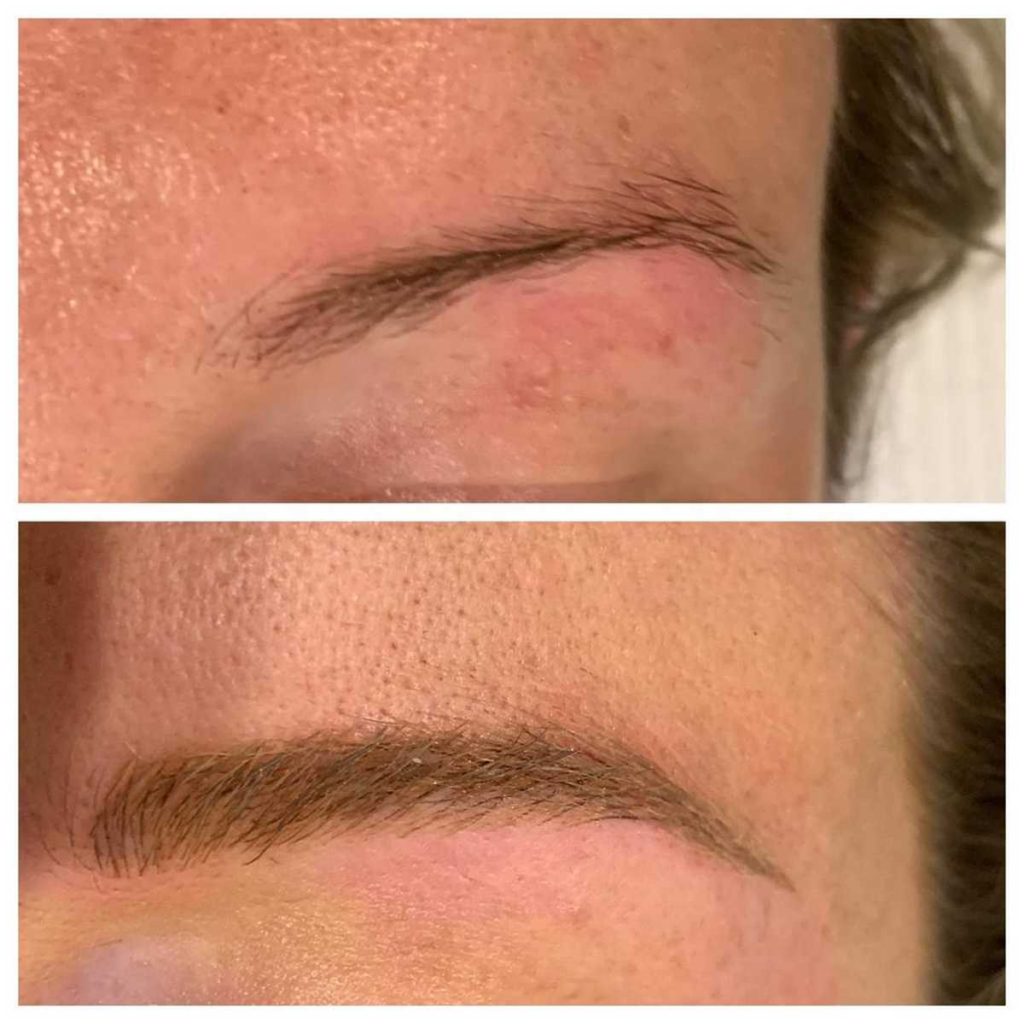 Natural-looking Outcome
In comparison to eyebrow tattooing, which leaves the brows seeming "drawn on" and unnaturally flat, the microblading technique yields a result that is more natural looking. This is because the microblading procedure makes individual strokes that look like hair and follow the same pattern of hair development as the surrounding eyebrow hair. If the expert performing the microblading is skilled enough, the treated regions can be made to seem like a denser version of the natural brow hair.
Is Microblading Toxic?
While we were discussing cleanliness, I would be negligent if I didn't also warn that there is a possibility that tattoo ink might be a harmful danger to the health of your body. While we were discussing hygiene, I hope you were paying attention. The European Chemicals Agency (ECHA) is now conducting an investigation into the potential hazards that cosmetic tattoo pigments may provide to human health and even the health of the environment. This investigation was only launched in August of 2018. If the EU is just now getting around to this probe, then you should know that the United States won't follow suit until the 22nd century at the earliest if they do the same thing.
However, we are going to hold a more in-depth discussion on tattoo safety for an other article in the near future.
Risk Vs. Reward
You should, at this point, have a solid understanding of all you can do to minimise any complications and optimise the outcome of your eyebrow microblading procedure. It's possible that this is the solution to your problem with a thin brow!