The first significant difference between microblading and permanent makeup is the method of application. With the permanent process, a series of needles are either stacked or formed in a circle, and a tattoo machine is used, vibrating to put the pigment into the skin. With this technique, the eyebrow area is filled in completely, whereas, with microblading, the manual blade consisting of multiple micro-needles creates fine hair-like strokes to complete the look of full, more natural brows.
Eyebrows play an essential part in the overall look. It can make or break the entire face.
We all want to wake up with the perfect eyebrows. Now, social media platforms like YouTube, Facebook, Instagram are full of beauty tips. You can find several techniques to enhance the brows. There are procedures like microblading, micro-pigmentation, permanent makeup etc. Before opting any of the processes, it is essential to know about the techniques and difference between them.Know more about our microblading services. 
Unless you've been chilling under a rock lately, you've probably heard of microblading, the new-ish, semi-permanent version of eyebrow tattoos. They're not your grandma's stamped-on brows; instead, the delicate, super-fine hair strokes look natural and realistic in a way that the first-gen versions never did. Microblading's recent popularity has spawned micro shading and micro feathering, two techniques that give you a different brow look depending on your preferences. Here's how they differ—and what that'll mean for you.
What is Microblading? 
Best for: Anyone who wants a natural brow look that lasts.
What is microblading: Microblading is a technique using a super-fine pen (technically, a bundle of 12 to 15 needles) to deposit pigment into the skin. The tip is so fine, in fact, that it can create hair strokes that look legit. And the needles reach only into the superficial layers of the skin, which is what makes the method semi-permanent (versus permanent, like traditional cosmetic tattoos). Think of each stroke as a little paper-cut. (We know what you're wondering: Yes, it hurts, but your brow artist can numb the area first.) Compared to other techniques, "microblading gives a very natural look and better simulates hair," says Betsy Shuki, makeup artist and brow expert who offers microblading services at the office of NYC plastic surgeon Scott Wells, MD.
What you should know: Prices vary based on location and artist expertise but expect a quality job to run somewhere between $700 to $1,500. In the first few days, you might want to plan around your brows. "On the first day after microblading, clean your eyebrows with distilled water on a cotton pad gently and apply aftercare cream every four hours," says Shuki. On the second day, repeat that three times. For the next five days, do this morning and night. Your brow area might be red and scabby, so try not to schedule big things (e.g., a huge job interview or engagement photos) for the first week or two. "Also, avoid going to the gym, any excess sweating around eyebrows will prevent pigment retention and can cause infection," adds Shuki.
How long microblading lasts: You'll need a touch-up in about a month (the cost of this is typically budgeted into the fee of the initial service). Then, microblading can last anywhere from 12 months to three years, depending on your lifestyle. A few ways to extend it: Stay out of the sun, since it can fade the pigment, and avoid putting exfoliants (like retinol and glycolic acid) near your brows because they'll lift the top layers of your skin with continued use—and the colour with it.
Microblading, the most popular form of permanent makeup, is a fancy name for an eyebrow tattoo. Instead of the shockingly dark brows, you may have seen on members of the Silent Generation, and the modern technique simulates individual hair strokes for a natural look. Cosmetic tattoo artists use a super-fine pen to deposit pigment directly under the skin. You may also hear names like brow feathering or microshading. "People will claim different techniques for marketing purposes," says Bray. Other techniques still fall under the umbrella of natural-looking hair strokes, and the critical part is to study examples of your artist's work and make sure you're a fan before booking an appointment.Check out our range of microblading services to help with your problems. 
Microblading is a manual method of implanting pigment in hair-like strokes in the epidermis to create the look of fuller brows. This form of tattooing is the newest trend in Semi-Permanent Makeup. The natural-looking results are achieved with a sharp, hand-held manual blade made up of 7+ microneedles. Instead of outlining and completely filling in the outline of your brows with colour, microblading actually allows for the placement of hair-like strokes into the skin. Whereas traditional tattooing uses needles on a rotary/coil machine to push ink 7 layers deep into the skin, microblading uses a manual blade and only targets 3 layers of skin. Because the pigment sits so superficially in the skin, the strokes are sharp, crisp, and they mimic the look of real hair! Your new brows will last anywhere between 1-3 years predicated on the environmental exposure it receives. Microblading pigments are all organic and will not change colour as they lose saturation over time. Thanks to the 1-3 year expected life of the semi-permanent makeup, the client can change the way their brows look as trends change.
Ani Nina, aka Neenajaybrows, is one of the pioneers and very first instructors of microblading in the Las Vegas and Henderson area. She is also the head Microblading artist at Ivy Laser Salon. With over eight years of experience in brow shaping and rehab, she is sought after for her treatments and instruction all across the nation.
What is Permanent Eyebrow Tattoo? 
Permanent makeup is a form of cosmetic tattooing, also known as micro-pigmentation, derma-pigmentation, and permanent cosmetics. Permanent makeup artists use tattooing techniques to apply designed that would resemble makeup. Eyelining, colour enhancement of skin on the face, eyelids, lips, and eyebrows are all areas that permanent makeup is traditionally applied to. It results in enhanced facial features that would typically be done with temporary makeup. Permanent makeup is virtually the same thing as getting a typical tattoo. A permanent makeup artist will use tattoo machines to implant ink into the dermis, just getting shy of how deep a regular tattoo will penetrate. Complications with permanent makeup include allergies to pigments, scars, skin cracking/peeling, infection, blistering, granulomas, and keloids. Many permanent makeup artists use regular tattoo ink which can change colour over time and have dangerous minerals like cobalt and mercury in them. A well informed and experienced permanent makeup artist will always use safe inks and techniques. With permanent makeup that involves the brows, usually, a powder fill like the method is used to make the brows look denser and fuller. The issue with permanent makeup for brows is its inability to create the natural and full look that microblading successfully achieves. In the worst-case scenario, unknowing clients will go to a traditional tattoo artist that will outline brows and fill them with colour, making a solid eyebrow look that is very unnatural and usually regrettable. These tattoos are generally much more permanent lasting decades.
Do microblading or permanent cosmetic procedures hurt?
Here at Custom Beaute, we do our best to keep you comfortable and relaxed with a gentle touch and topical numbing agents. The majority of our clients are pleasantly surprised by the pain level experienced, and many consider it less painful than a regular tattoo since there are fewer needles involved, and a numbing agent is applied. We recommend that clients take Tylenol before the procedure and drink plenty of water to hydrate the skin. Do not take Motrin, Aspirin or any type of blood thinner before an operation.Check out microblading page which has everything you might need near you.
Which is Better? 
A common question among those who are curious about diving into the world of cosmetic tattooing is "What is the difference between permanent makeup and microblading?" Although they both are a form of cosmetic tattooing, they are both very different. For starters, microblading is a relatively new practice, unlike permanent makeup that has been around for a couple of decades now.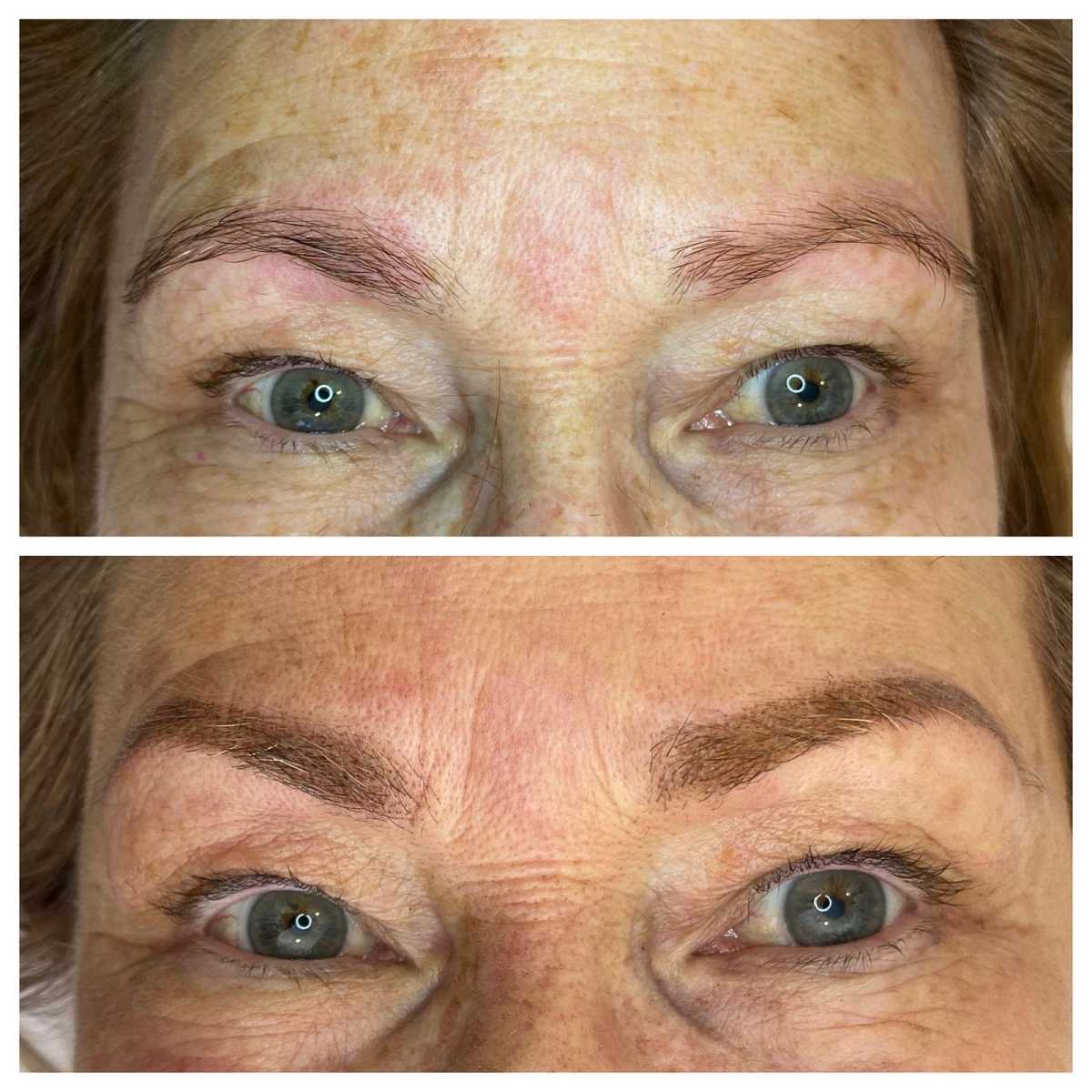 Permanent makeup, contrary to what the name implies, is not "forever" permanent. Though, it does last a decent amount of time. Permanent makeup can last up to 5 years before you feel like you may need a slight touch up. This form of cosmetic tattooing involved the use of a machine similar to that used to create regular tattoos all over someone's body. The purpose of permanent makeup is to enhance one's facial features. Most often, people choose to have permanent makeup applied as an eyeliner, to fill in their eyebrows, or to add some long-lasting colour to their lips. However, it isn't unheard of to add a touch of permanent eyeshadow or blush. You may hear permanent makeup referred to as several other names, such as "intradermal pigmentation, micropigmentation, or permanent cosmetics. 
As to be expected, women are the primary clientele in this industry. Though, it is not uncommon for men to get involved as well. Typically, they are seeking scalp pigmentation as they begin to experience hair loss. The main purpose women seek this sort of cosmetic work, aside from having perfect make up every day, is as a time-saving effort. Some women want to have their makeup routine down to a science in the morning and can be out the door with a full face in under 20 mins. That isn't the case for everyone, and sometimes they just need that extra 20 minutes free in the morning whether it be to sleep in or to wrestle three small children into the car to be taken to school. 
On the other hand, microblading has been explosively increasing in popularity in recent years. Unlike with permanent makeup, microblading is considered to be semi-permanent makeup, lasting almost as long as permanent makeup, but not quite. Reason being, Is the technique that is used to apply the pigment. 
Microblading is done by hand with a blade, unlike permanent makeup that is applied with a machine. Microblading is done in such a way, to allow the technician to make precise, superficial cuts to the eyebrow. This blade cuts through the superficial layers of the skin, depositing the pigment just below the surface. Deep enough for the stain to remain visible for up to three years. With that being said, one of the most significant differences between microblading and permanent make up when it comes to eyebrows, is that permanent make up will create a more defined makeup look within your eyebrow, unlike microblading's approach to creating a more natural look through fine, precise strokes. 
With either technique, you have permanent or semi-permanent pigment applied to your face to enhance your features in an as close to natural manner as possible. With permanent makeup, you can have more than just your eyebrows enhanced and can enjoy the look for up to 5 years. Whereas with microblading, the focus is on the eyebrows, to give them a flawless, natural look 24/7, for up to 3 years. Whichever route you decide to go with, the biggest favour you can do for yourself is to do your research. This includes potential technicians and their track record in their field. Permanent makeup, as well as microblading, can make a world of difference in how you look as well as how you feel about yourself. Life is too short not to be content with the face staring back at you in the mirror each morning. 
The difference between Microblading and Permanent Eyebrow Tattoo 
Eyebrow microblading is a form of permanent makeup where ink is placed underneath the skin. It's similar to eyebrow tattooing (in fact, it is a form of eyebrow tattooing), but it's pretty different from standard eyebrow tattooing in some significant ways. Let's clear it up here:
Microblading Eyebrows Lasts 1 To 2 Years. Eyebrow Tattoos Last Forever.
Regular eyebrow tattoos last a lifetime, but with microblading, ink is not placed as deep underneath the skin. This means that as your skin naturally cycles through, the ink eventually rises to the surface or moves around underneath the skin to appear lighter. Over time, the ink will fade significantly compared to an eyebrow tattoo. Depending on your skin, it may eventually disappear. Microblading requires regular touch-ups.
With Microblading, Blacks Don't Turn Blue Or Brown. 
Microblading uses an entirely different kind of ink than traditional tattooing. With microblading, blacks do not turn blue or brown. Even as the colour fades, it stays true to the original hue. 
Microbladed Brows Are Hand-drawn; We Don't Use A Machine.
This makes a big difference! Because it's hand-drawn, there is less impact on the skin than with traditional tattooing, which uses a machine. What this means for you is that the ink will not bleed over time. With a great microblading artist, you can be sure that the fine lines that are intended to stimulate your natural hair will not bleed out, like the fine lines of a traditional tattoo.
Based on Techniques
Microblading is a form of semi-permanent makeup which is entirely different from permanent tattooing. Electric machine consisting of the small bladed pen is used in microblading. This electric machine creates Bastrokes on the brows, which creates a shaded effect on the hair brows but do not look like hair strokes. If you want enhanced and natural hair strokes, you can go for micro-pigmentation. After microblading, you can go for micropigmentation to get manicured and natural growth. It can also be done on the male's scalp to show natural hair growth.Our exclusive range of microblading services  will help you in eyebrow microblading, feathering or hair stroke eyebrow tattooing procedures. 
Based on Depth
The outermost layer of the skin is epidermis and beneath the epidermis is the dermis. Semi-permanent makeup goes into the skin with a depth of 0.08millimeter to 0.15millimeter. Here, the pigment is set down into the border between the epidermis and dermis layer. Talking about the permanent makeup, it penetrates the stain with a depth of 1 millimetre. Here the whole pigment is encircling the dermis layer.
Based on Colour
Semi-permanent makeup uses natural colours than the permanent makeup. It is because of the presence of the carbon ingredient in colour. It gets oxidised and produces different colours over time. This is the reason why the colour of the tattoos keeps on changing shades like green, red, blue etc. after some time. In semi-permanent makeup colours, iron oxides are present which do not change the colour but only fade after some time.
Based on Appearance
There are several types of variations in the techniques which are based upon technique, depth or pigments etc. Besides all of this, microblading gives a natural look than other techniques. Permanent tattoos can not imitate the natural hair strokes, whereas microblading is capable of doing so. Microblading also shows great results for the people who do not have eyebrows. People who are suffering from cancer or people who have thin brows opt this technique for their eyebrows.
Based on Durability
Of course, it is permanent makeup. The depth of the pigment is so deep that it can not be altered. The tattoo removal artist can not guarantee the 100% removal of the tattoo. There will be a faded colour or scar left in that place. At the same time, microblading lasts for 1.5 years to 2 years. You can correct or remove it at any time. If you want the original results, you have to visit the salon after every six months for the touch-up.
Based on the Risk Associated with the Technique
Undoubtedly, it is microblading. It is much safer than permanent makeup. There are more chances of allergic reaction and infection in permanent makeup. In microblading, a protected form of pigments is used and also the treatment process is less disturbing. The results of microblading and micropigmentation are great and safe. You may experience a litter scabbing and redness after the treatment. But there is nothing to worry.
If you are new to the cosmetic thing, you can firstly go for microblading to get some glimpse of how perfect brows feel like. If the experiment turns out to be great, then you can go for a permanent tattoo. The choice is ultimately yours. If you are not happy with the experiment, then don't worry. It will fade after some time, or you can remove it right after the treatment.