Microblading (also known as feathering) is a brow tattooing technique that uses a precise blade to create the look of individual hairs in sparse brows. Since it doesn't involve removing hairs – instead, it adds "fake" beards where there are none naturally – it has no effect on average hair growth. Rachael Bebe runs a Semi permanent makeup salon in Mornington .

One facial feature that has come into its own in recent years is the eyebrows. Scrolling through any social media site will bring up endless images of bold, beautiful brows and tips on how to achieve them. For some beauty aficionados, microblading is the grooming technique to shape and still brows. But does Microblading your eyebrows prevent hair growth later on? Most people don't want to take any risks with this crowning facial feature.
Although it sounds like a hair removal technique, microblading is used to increase the appearance of fuller brows. A form of tattooing, microblading, is a type of semipermanent makeup application in which brows are etched on in tiny strokes that mimic natural hair, according to the website for Elle. The idea of permanent makeup might cause you to picture Sharpie-thick brows, but the technique of microblading produces exceptional natural-looking results.
Why would a person want more hair up there? There is a real reason microblading has caught on in recent years. People with naturally sparse brows can have trouble creating a brow look with gel, powders, or other makeup. These applications could melt off the face during wear or look less than natural. Because it'sits a tattoo, microblading can last through any activity. Once it'sits done, a person can wake up with perfect brows. Cool, right?
How to grow your eyebrows back fast
#1 Keep your hands off them
 Ironically, the top thing you can do to speed up eyebrow hair growth is to do nothing at all. "The most important thing to do when growing back your brows is to put the tweezers down and give the hairs a chance to grow again – it'sits the only way," says Mutze. Jean agrees, but adds that if you need to tweeze any stray hairs, "fill in your brows with your favourite brow product into the shape you're trying to achieve, then strictly only tweeze the hairs that fall outside of that shape."
Rachael Bebe also performs Lip tattoos.
If you're looking for a new product to fill in your brows, we recommend Benefit Cosmetic'sCosmetic's Goof Proof Eyebrow Pencil, Amy Jean Privée Brow Veil and Maybeline New York Master Brow® Pro Palette.
#2 Make regular appointments with an experienced brow expert
The journey back to high brows is not one that you need to take alone. Jean and Mutze both recommend making regular monthly appointments with an experienced brow artist who can help tidy up the shape of your brows while ensuring all the valuable growth remains.

#3 Brush through your brows regularly
One surprising way to stimulate hair growth is to daily brush through your brows, both morning and night with a spoolie. Mutze explains that this practice massages the skin and encourages blood flow, which can promote hair growth.

#4 Nourish the hairs you already have
It can be easy to forget about the eyebrow hairs you already have when you're trying to grow more, but maintaining the health of your current hairs is essential for achieving the arches you've always wanted. To do so, Jean suggests using an eyebrow hair growth serum to nurture and nourish current hairs. The way these products work is by strengthening the strands to prevent breakage, which will help them continue to grow at their natural pace.
That said, it'sits understandable if you approach the idea of microblading with a bit of trepidation. (It is a face Cosmetic tattoo, after all. Albeit a rather shallow one.) Most importantly, will microblading mess up your natural hair's ability to regrow? It does not seem to affect hair growth in any way. According to the Hair Transplant Institute Miami, microblading will neither prevent nor encourage future hair loss in the brow area. Of course, if you have any specific concerns, don't hesitate to ask your esthetician or doctor for advice. Particularly if you have sparse hair from a health condition such as alopecia, it'sits smartly to check with a medical professional before going through with this technique. If you decide to go for it, though, get ready for some brows that stay awesome 24/7.
If you do not want to take a prescription medication, vitamin supplements can also be used to regrow eyebrows. Viviscal, a supplement made up of marine proteins, acerola cherry and horsetail extract, hydrates hair follicles and promotes healthy hair growth.

Beauty Treatments
Numerous beauty treatments can be applied topically to eyebrows as well to stimulate hair growth. Anastasia, a celebrity brow artist famous for creating perfectly shaped brows, developed her product, Anastasia Brow Enhancing Serum, that contains peptides, vitamins and botanical extracts. Not only does the product hydrate and condition brows and prevent breakage, but it also feels cooling and soothing upon application.
RapidLash, another peptide, vitamin and mineral-based serum, also uses the same principles to regrow and maintain both eyebrows and lashes.

There are numerous other treatments available such as RevitaBrow, Ardell Brow & Lash Growth Accelerator Treatment Gel, Talika Eyebrow Lipocils, Nutra Luxe Lash MD and Rejuvi Eyebrow Revitalizer. Since the success of these types of treatments depends on the individual and their particular body chemistry, it often comes down to a case of trial and error.
For a more cost-efficient option to regrow your eyebrows or for those who don't want to use medications or chemical treatments, there are also quite a few natural remedies that have been shown to regrow eyebrow hair successfully.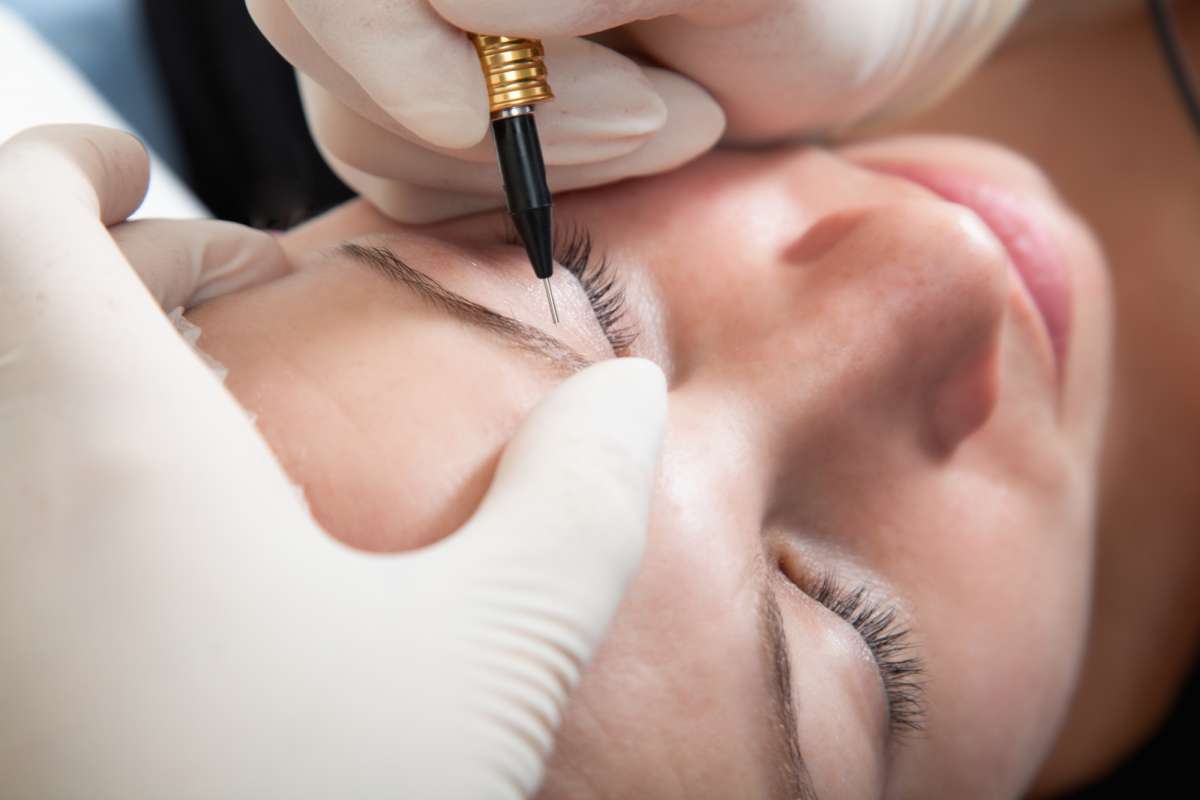 Natural Remedies
One of the most popular natural methods for eyebrow regrowth is castor oil. The unique chemical composition of this oil can help to regrow hair by gently massaging it on the brow area for several minutes each day. After the oil has been pressed into the skin and allowed to sit for about 30 minutes, the area should be rinsed and washed with a gentle cleanser. Like with any other product, if the area appears or feels irritated, use should be discontinued.

Another natural remedy for brow hair loss is aloe vera. Although the preferred method of application would be to squeeze the gel straight from the leaves of an aloe vera plant, the bottled gel from the store can also be used. Gently massaging the gel into your brow area for a few minutes every day can help to heal the delicate skin in that area and promote new hair growth.
Milk, because of its high protein and vitamin content, can also be used to promote hair growth. Dip a cotton ball in milk and apply it to the brow area each night before bed. The nutrients will nourish hair follicles and help them to grow faster.

Onions can also be used in the same manner. Grinding an onion and applying the juice to the brow area can help eyebrow hair grow in faster and denser if you can stand the odour!