Lovely red lips, perfectly shaped eyebrows, and flattering eyeliner. Permanent makeup holds the promise you'll work all day, go to the gym, dance all night, and wake up in the morning with makeup in place. Nothing, it seems, will phase these cosmetic tattoos.
In the hands of a skilled person, the procedures are generally safe. But state regulatory agencies haven't kept pace with the growth of the permanent makeup industry, and there are lots of unqualified people wielding needles.
Permanent makeup is considered micropigmentation, similar to tattoos. It involves using a needle to place pigmented granules beneath the upper layers of the skin. Tattooing and medical restoration, which corrects imperfections from scars and vitiligo (lack of natural pigmentation in the skin), are similar procedures. "They're the same procedures but used for different purposes," says ophthalmologist Charles S. Zwerling, MD, who coined the term micropigmentation.
Permanent makeup like eyebrow tattooing and lip tinting has grown in popularity over the past couple of years. Known to last for up to five years, these procedures are aimed at either daily replacing usage of actual makeup or as a means of expression among beauty enthusiasts. Advocated by beauty bloggers, women have gotten more and more comfortable with these procedures. After all, they are just tattoos, right? Looking for eyeliner tattoo salon? Look no further,Cosmetic Tattoo by Rach got you covered.
There is more to permanent makeup though than just being run-of-the-mill tattoos. Especially with eyeliner tattoos, there are some things you need to know before you go out and get one!
Permanent makeup for eyeliner is the most popular cosmetic enhancement, followed by eyebrows and lip colour. Some practitioners offer blush and eyeshadow, but Zwerling, chairman of the American Academy of Micropigmentation (AAM) in Goldsboro, N.C., says he's opposed. "What I've seen has been very poorly done. You can't be sure what the colour is going to do, and if you get an allergic reaction, you're dealing with a large surface area. You're talking about major reconstructive face surgery."
Most procedures are done after applying an anesthetic to the skin. Zwerling says after the initial design, touch-up might be required but no sooner than one month and as much as three months later. Practitioners include dermatologists, cosmetologists, aestheticians, nurses, and tattooists. Before you rush to the Yellow Pages to find a practitioner, experts advise doing your homework.
If you've ever felt the high of nailing the perfect eyeliner application, you've also felt the soul-crushing low that comes with removing it at night, only to attempt the impossible all over again the next day. The solution? Permanent eyeliner. No, I don't mean drawing your cat eye with a Sharpie marker à la Taylor Swift. I'm talking about the permanent makeup technique that replaces your everyday liner with tattooed eyeliner. Yup.
In short, a lash-enhancement tattoo is a semi-permanent treatment that places pigment along your top or bottom lash lines (not your waterline). "The tattoo itself can be super thick or as thin as your natural lashes, and it doesn't have a flick or extended tip," says Piret Aava, an aesthetician and cosmetic tattoo specialist at Eyebrow Doctor in Los Angeles. "It's just to fill in the lashes to create the illusion of thicker, darker, and completely fuller lashes without looking lined or like obvious makeup."
The eyes are the mirror of the soul, and thanks to the latest semi-permanent makeup techniques, we can emphasise its natural beauty and visually improve eyes' contour.
Nowadays there are numerous methods of permanent eyeliner makeup, from fairly embedding relatively minor and subtle enhancement in the eyelash line to creating a butterfly effect with many different shades of pigmentation.
However, the semi-permanent makeup procedure must be performed by an experienced and highly-skilled artist since only meticulously designed and tattooed eyeliner results in an excellent final effect. At Permanent Beauty Clinic, the perfect permanent makeup is created individually for every one of my clients, as we all have different eyes' shape and wish to emphasise with slightly correcting certain features.
The treatment starts with an extensive consultation when I design an initial shape and contour, which allows the client to visualise the final effect of this procedure. I believe it is pertinent to create eyeliner that is ideally embedded into the natural eyes' contour and exquisitely beautify the clients' natural facial features. Imagine your perfect holiday with permanently and flawlessly outlined eyes, without the need for daily applications and without any need for constant re-applications that we all know is rather bothersome when on holiday or during your busy day.
Maybe you have unsteady hands or poor eyesight that make it difficult for you to apply eyeliner, lipstick or other cosmetics. Perhaps you have medical reasons to add pigmentation to certain areas of your body. Or perhaps you lead a busy life with little time to do your makeup, or can't find makeup that lasts long enough on your skin. See more of our  eyeliner tattoo services. 
If any of these are true, you may have considered looking into permanent makeup as a solution. But you probably wonder exactly how it works, or if permanent makeup is even safe. Many also question if permanent eyeliner, for example, can be removed once it's applied.
When considering whether or not this type of procedure is worth it, it's usually the word "permanent" that creates a pause. Interestingly this can be the best (or potentially the worst) aspect of the procedure depending on certain factors.
We asked cosmetic dermatologist Shilpi Khetarpal, MD, to offer her insight to see if permanent pigmentation is right for you.
Permanent Eyeliner
Maureen recommends going for subtle over-dramatic, perhaps getting just a thin swipe of ink on your upper lash line and only lining your lower lid if you regularly wear eyeliner there.
When our beauty editor got a permanent liner, she found she needed only a little bit of mascara each day for her eye makeup to look done. For special events or trendier looks, she adds traditional eyeliner over the cosmetic tattoo for a thicker line or cat-eye flick.
Eyeliner tattoos or lash enhancement tattoos are a semi-permanent treatment that introduces pigment along your top and bottom lash line. It is done away from the waterline to prevent irritation. The tattoo can be thin like your natural lash line or thicker to look like full-fledged eyeliner.
The main idea behind eyeliner tattoos is to give your lashes the illusion of being denser and darker, without relying on actual makeup. They last anywhere between one to two years, but some have known to even go up to five years. Eyeliner tattoos can also give you flicked liners, smudged eyeshadow or be a means to fill bald spots along your lash line… it depends on what you want and the skill of the artist doing it.
Perfectly designed and applied semi-permanent eye makeup enhances the eyes' contour and shape. Skilfully selected techniques can visually enlarge smaller eyes or adjust the size of bigger eyes, as well as make eyes appear more oval, almond shape.
The perfect permanent decorative eyeliner beautifully emphasises the eyes contour, and it is always individually designed to create an amazing final effect. Generally, this Permanent Makeup technique results in a more dramatic final look. The carefully selected pigment is applied in the shape of a thicker line on top of the previously enhanced eyelashes ended with the perfectly finished flick.Our exclusive range of eyeliner tattoo services  will help you in eyebrow microblading, feathering or hair stroke eyebrow tattooing procedures. 
An expertly applied Permanent Eyeliner is the perfect solution to thicker, darker lashes and more defined eyes, giving you a professional make up that stays put and doesn't need to be removed every night or carefully 'matched up' every morning. 
Swim-proof, shower-proof and gym-proof, semi-permanent eyeliner provides a naturally beautiful look day after day without the time and hassle of frequent applications. 
Our permanent eyeliner treatments can be applied to the top, bottom or both eyelids*, so you can customise your look to suit your style. Choose from a subtle Lash Enhancer for an understated everyday look or make a statement with a thicker Liquid-Look-Liner or a smokey Whipshaded Eyeliner.
We also offer a fabulous selection of colours to choose from if you fancy breaking away from the traditional black eyeliner option. Why not give blue, green or even a pearl highlighter a try? All the pigments we use are hypoallergenic and perfect for sensitive eyes or contact lens wearers.
What Is The Process Like?
"Again, permanent eyeliner is just depositing colour into the skin," says David. "I specialise in a very natural look, so I only do a very natural eyeliner. Meaning, I go right in the lash line and refuse to do Anything thick on clients. It takes about 1.5 hours." David also refuses to (and advises against) permanent cat eyeliner, permanent coloured liner, and even black liner on lighter. 
Do Eyeliner Tattoos Hurt?
I mean, pain is subjective, right? But the process does involve a tattoo machine pushing ink into your delicate eyelid skin, so it's not going to feel like nothing. That said, most places use a topical numbing cream to keep you comfortable during the process, and you can also call ahead to ask about the typical pain level of costumers.
Much like regular tattoos, eyeliner tattoos come with a similar set of guidelines. They are pretty safe if done by a reputed professional or an experienced aesthetician. Don't just present your eyes for tattoos to any parlour or salon that claims to be the next big thing in tattoos!
You have to know that even though eyeliner tattoos are not permanent like regular tats, they still involve piercing with a microneedle to introduce pigment into your skin. Please do your research on all the precautions one needs to take before getting a tattoo. See if it works for you at that point in time. For instance, if you are on acne medication, eyeliner tattoos are not recommended as your healing process will be delayed.
How Safe Are Eyeliner Tattoos?
Much like regular tattoos, eyeliner tattoos come with a similar set of guidelines. They are pretty safe if done by a reputed professional or an experienced aesthetician. Don't just present your eyes for tattoos to any parlour or salon that claims to be the next big thing in tattoos!
You have to know that even though eyeliner tattoos are not permanent like regular tats, they still involve piercing with a microneedle to introduce pigment into your skin. Please do your research on all the precautions one needs to take before getting a tattoo. See if it works for you at that point in time. For instance, if you are on acne medication, eyeliner tattoos are not recommended as your healing process will be delayed.
Possible Reaction When Having Eyeliner Tattoo 
"Allergic reactions to pigments are reasonably rare, but it's difficult to remove the irritant," says FDA spokesman Stanley Milstein, PhD, in Washington, D. C. "Anytime you implant a foreign body into the skin, it has the potential for results not anticipated. The reaction could occur years later as a rash or an immune system allergic reaction."
Zwerling says pigments, like iron oxide, rarely cause allergic reactions. "Iron oxide has been shown to be the safest pigment," he says. "Anything that is vegetable-based, organic, or natural is the riskiest. It's the natural products in vegetables and herbs that can cause horrible allergic reactions."
Eye infections can occur if you wear makeup too soon or rub Anything into your eyes. And if you do find a doctor who will give you permanent cat-eye liner, expect that to droop and crack in appearance as you age. You're better off avoiding it. Check out eyeliner tattoo page which has everything you might need near you.
Should You Get An Eyeliner Tattoo?
Here are some things to consider before you decide to get an eyeliner tattoo:
Getting eyeliner tattoos from a good place will cost you big bucks. The number is nowhere near the money you'll spend buying eyeliners. So if you don't care about the money and are only interested in saving time on fixing liner mistakes, you can consider getting a lash enhancement tattoo done.

Everybody has a different pain threshold when it comes to tattoos. Even though eyeliner tattoos are done after the application of numbing cream, you can still feel it on your delicate lids!

Eyeliner tattoos come with their share of side effects as well. From swollen eyes to bleeding, bruising, burning or itching around the tattoo area… it can get pretty ugly.

If your body is able to heal properly, you shouldn't face any difficulties. But some side effects of improper healing can include infections, and sometimes even hair loss in your lashes.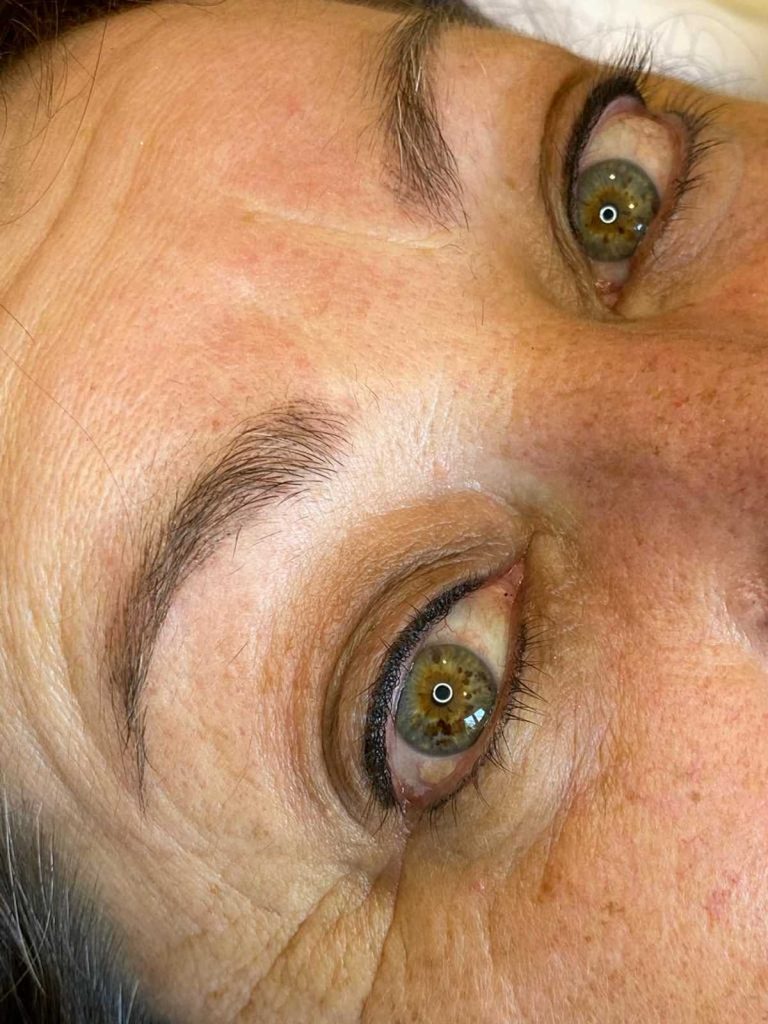 Simply put, eyeliner tattoos come with a whole list of responsibilities and care guidelines. If you are confident that you can deal with it or have previous experience (good ones!) with tattoos, you might be okay. Just remember to get it done from a trustworthy place. 
Pros of Permanent Eyeliner
Most obvious benefit would be that it saves up a ton of time. You wake up face ready for the day. No more time spent on the meticulous drawing of eyebrows in the mornings.

It is safe! Talk to people around you and get to hear their many accidents involving stabbing themselves in their eyes while working on their eyebrows. Permanent eyeliners come with a surety of safety.

Comes in handy to people with allergies to traditional makeup or with sensitive skin that reacts to the many products used in creating the perfect eyebrows.

It is flexible and adaptive to every situation. You can literally swim, exercise, shower, sleep and wake up still looking all glammed up and ready to face the day. No more restraints to your life by just a simple part of your body: the brows.

They provide a perfect look for people who have lost their hair due to either accidents, burns, chemotherapy or cosmetic surgery.

Convenient for people who have a tough time applying makeup due to age-related conditions like arthritis.
Cons of Permanent Eyeliner
Be on the know, the process of getting a permanent eyeliner is throbbing and not for weaklings. Like any other tattoo, it involves some jabbing and sometimes complications such as bleeding, swelling, crusting, and severe eyelid injury, among others.

Prone to infection.
Unsterilised equipment and needles used during cosmetic surgery can easily be infected and pass long infectious diseases such as hepatitis and staph bacteria.
Scarring: If not performed by a trained professional one is prone to getting scars. Sometimes even keloid formations which are severe scars that are not easily correctable.

Allergic reaction: Sometimes, one can react to the ink used for pigmentation. This can be very dangerous as it is difficult to remove all of the pigment once done.

Apart from the keloid formations, one can develop nodules called granulomas around the material that the body identifies as foreign. This includes the particles of the tattoo pigment.

Just as the name says permanent, so is the makeup once inked. The removal process is thorough and may involve several laser procedures.

Getting that permanent ready look also costs a dime. It is conducted only by licensed and well-trained cosmetic professionals who are most sought after.