You know what they say: Eyes are the windows to the soul, and as such, they can be one of the most captivating parts of your face. Thus, the role of makeup should be to enhance your eyes and give them definition and impact — not take away from their power.

Eyeliner, specifically, can perk up your peepers when wielded properly. But, on the flip side, it can also really drag down your makeup look when misused. Here are some do's and don'ts to keep in mind before you grab that eye pencil or liquid liner. Rach's Cosmetic salon in Mt Eliza is a tattoo and semi permanent make up salon.

Raise your hand if you've ever accidentally poked yourself in the eye with your eyeliner. (So, that's pretty much everyone.) While eyeliner tends to be pretty straightforward—the basic idea being that you just trace your lash line—some surprisingly tricky aspects can mess you up. The ultimate goal is perfecting liquid liner, which is like the cool clique of the eye makeup world (a.k.a. intimidating and perfect in an Instagram-worthy kind of way). But with the right tips, you can get gel, liquid, and pencil liners down to an art form. Read on for the biggest mistakes you're probably making.

Even though eyeliner is probably one of the first makeup products you ever purchased, it's still, after all these years, somehow one of the hardest to apply.' Cause unlike natural products like blush or foundation, eyeliner can go very wrong, very fast (and I'll be the first to attest to that, considering my f*cked-up eyeliner has made me late to work more times than I'd like to admit). That said, there are some game-changing tricks in the beauty community that'll help you apply eyeliner like a pro, and they're pretty easy to master (Eyeliner tattoo)

Do choose the right colour.
If you're stuck on black eyeliner only, then you're missing out on a range of hues that can boost your eye colour. For example, a brown shade is a less harsh option that creates a softer, more subtle effect. A deep, jewel-toned eyeliner such as emerald green or sapphire blue can work wonders to bring out the colour of your eyes. In contrast, white or nude eyeliner on the lower lid works to brighten the eye, creating a refreshed, awake appearance.
Do make it last
As much as we'd like to tell you that there is a miracle way to make your eye makeup and eyeliner stay entirely in place from morning until night, at the end of the day, you will still have to reapply and touch it up. For an extra dose of staying power, waterproof gel liners are often your best bet for liner longevity — especially for the bottom lid. They also have less chance of smearing or running. But not even waterproof product will stay as fresh and strong as when you first applied it. So, pack your pencils with you, and refresh the line when needed. It shouldn't take but a second if you're starting from a solid foundation. Blotting papers for your lids are also a great idea, as they will take care of the eye makeup that may have smudged into the creases without ruining your liner.
Do use a sharp pencil
While this may seem like a no-brainer, don't slack on keeping your eye pencils sharpened. Dull pencils with flat tips at the end will only yield a messy application of the product when smooth and precise is what you want.
Don't walk an uneven line
While no one is calling for absolute perfection when it comes to your eye makeup, there's a fine line between sophisticated and sloppy. Jagged, uneven eyeliner can ruin an otherwise good look. The biggest offender is liquid liner as it requires an ever-so-steady hand and it can be quite the challenge to apply smoothly. Of course, it also delivers a strong, fluid line which means drama in spades. To keep a liquid liner straight, avoid tugging at the outer corners of the eyes, advises makeup artist Laura Geller. When you let go of the eye, the line will appear distorted. Plus, that tugging over time can lead to wrinkles. On the other hand, a pencil or gel product is far more forgiving if you're in a rush or short on practice time. Go Check Out Racheal Bebe's Eyebrow tattoo Services

Using a dark liner on the bottom without a liner on the top makes the eye feel unbalanced and bottom-heavy, dragging the eyes down," explains Stiles. Plus, if you sweat or rub your eyes throughout the day, you could end up looking like one of Marc Jacobs' goth girls. "Keep the liner to the top lid for a more lifted, youthful effect." If you want to go after your bottom lash line, Stiles recommends using a lighter colour there than you're using on the top. "This will still give you definition, but feels softer and more flattering," she adds.

Don't get too bottom-heavy
Like many things in life, there is too much of a good thing when it comes to eyeliner, especially if you're painting too much product on the lower lid. Overdoing it with a thick line under the eye is too bottom-heavy and can actually make your eyes look smaller rather than enhancing them. You're also more likely to end up with under-eye smudges if you go this route. Better to swap the dark, thick liner for a lighter line and a subtler shade of taupe or light brown. And avoid using liquid liner on the bottom lid, too; it's just too dense and will be dripping down your face by midday.
Lining the waterline is probably the most under-appreciated makeup trick ever. It's an easy way to brighten up the eyes or get a super-precise look—but that's only if you're strategic with the colours. "I love a dramatic eye, but very often black liner in the waterline can make your eyes look smaller," says Stiles. Instead, Stiles suggests using a softer color, like bronze, gray, or bronze, and swears by taupe. "It still gives you a sultry look without closing up your eyes and making them look smaller," she explains.

Don't skip the smudge-proofing
The smudge-proof is in the pudding when it comes to your eyeliner. It's a common oversight to skip this step of eye makeup application. But for your eye makeup to last from sunup to sundown, you'll want to combat the smudge. It's not enough to just apply liner. First, you'll want to prep your lids by brushing them with a translucent powder. You'll also want to avoid putting any lotions or creams on the lids, as that can cause a good deal of smudging. Then, trace over the eyeliner line with a matching powder eye shadow. And for an even more dramatic effect, retrace more liner over the powder for double impact. To make it last even longer, wet the shadow brush with Visine first, Jo Davis, artistic director for Trucco Cosmetic.

Closing your eye when you're drawing on a cat-eye
Here's the annoying thing about cat eyes: You can draw them correctly on both eyes and then realize that they're uneven. Much of this comes down to placement. The solution? Keep your eyes open. "When the eye is closed, you can't see where the crease at the corner of the eye falls," says Stewart. Assuming your eyes aren't crooked, this will help keep your liner even on both sides.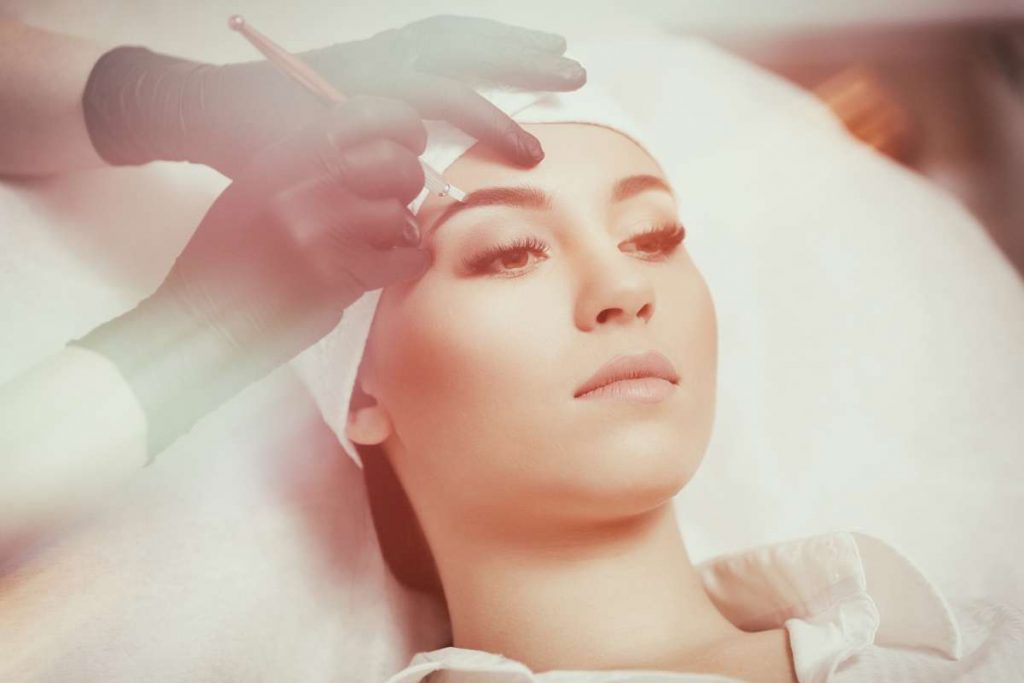 Attempting to paint on the liquid liner with a brush applicator (and failing)
Kind of how the wands choose the wizard in the world of Harry Potter, everyone has a liquid liner applicator that works for them. "Some people do better with a brush, others like a felt-tipped applicator," says Stewart. "Everyone's hand is slightly different." She suggests experimenting with a few different kinds of applicators to figure out which you're most comfortable with—and while that sounds time-consuming (and expensive), it's worth it if you're serious about getting a perfect cat-eye. Felt-tipped pens like Makeup for Ever Ink Liner are best for beginners since they offer the most control.
How to Apply Bottom Eyeliner the Right Way
If you ever smeared a half-inch-thick circle of black eyeliner under your eyes as a teen—and didn't we all?—then you already know full well how tricky bottom eyeliner can be. Do it correctly, and you've got a natural-looking definition that goes perfectly on its own or with other eye makeup; do it wrong and, well, it just doesn't look right. Simple as that.

Fortunately, applying eyeliner to your lower lid the right way isn't hard—it just needs to be approached with a bit more caution. We'll tell you all about how it should be done.

Get your freshly sharpened liner pencil at the ready, follow these steps and tips, and you'll master the perfect bottom eyeliner look in no time.

Keep Your Lines Thin
Keep eyeliner on the lower lid thin and inconspicuous. The obvious pitfall of bottom eyeliner is that it can create the impression of dark circles beneath your eyes, which no one wants. Keeping the line thin and soft by using the side of the tip of your liner pencil, rather than pressing down, is key for avoiding under-eye darkness.
Line the Outer Three-Quarters of the Eye, Avoiding the Inner Corner
Adding a dark liner to the inner corner of the eye "closes" the eye and makes it look smaller—that's what you don't want.

Instead, use a light hand to sketch out a soft line just below your bottom lashes so that there's a bit of waterline exposed to keep the area looking light—it'll add the definition you're going for without changing the proportions of your eyes.
Don't Line the Inside Rim
Lining the waterline in black to define the eyes has grown in popularity in the past few years, but we strongly advise that you don't do it, especially on the lower lash line. Not only will it make your eyes look darker and smaller (are you sensing a theme here?), but the potential eye health repercussions—infection, itchiness, and just run of the mill irritation—make it even more unappealing. Avoid, avoid, avoid.

Be Careful About Blending
You want to blend the liner into the lash line, and at the edges, so it looks naturally defined, rather than harsh, but blending too much can cast a grayish shadow around the area, which will, again, contribute to the appearance of dark circles. Blend upward and side to side, and if you notice the liner starting to make eyes look a little dull, it's time to stop blending and begin cleaning up.
Always Clean Up Afterward
Yes, always. A dark, smudgy liner that extends too far down past the lash line will make you look tired and, worse for the wear, not bright-eyed and bushy-tailed. A tapered Q-tip dipped in makeup remover will clean up the area so your eyes stand out the way you want them to—as in, people will ask you how to get the same look, not if you've been up all night.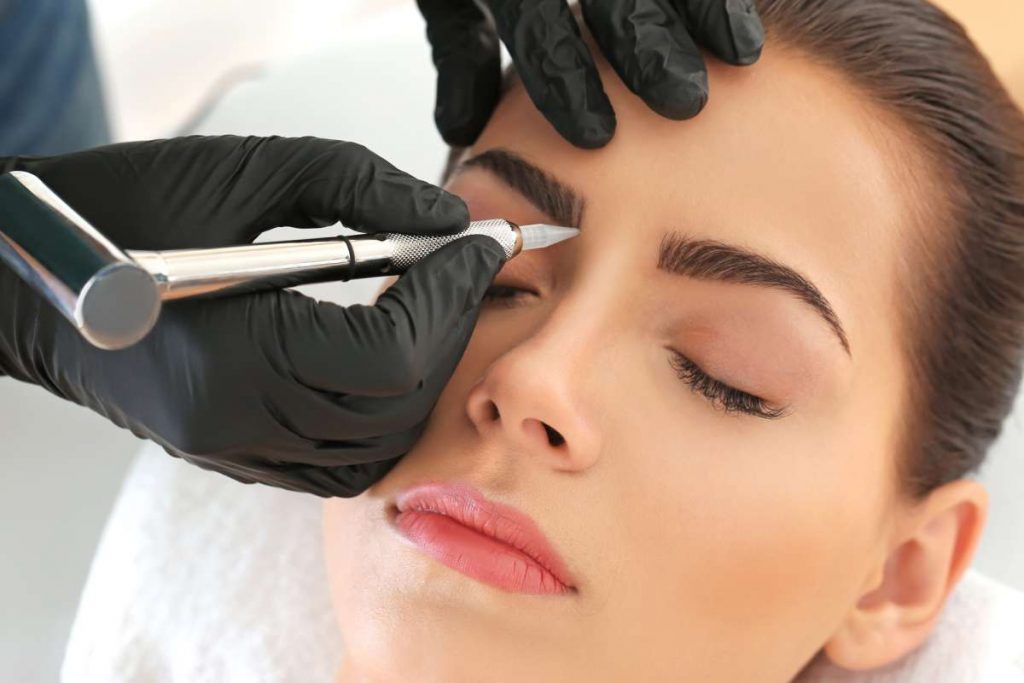 Reasons Why You Wear Eyeliner On the Bottom of The Eye
Wearing eyeliner on the bottom of the eye can brighten the eye, create a smoky look full of sex appeal and drama, or add light definition. However, if overdone, this same look can give the eye a bulky, sagging appearance.
Have A Look At Rach's Eyebrow feathering Services

To brighten the eyes: Choose a white or light peach liner and line either underneath the lashes or, if you're comfortable, the waterline of the eyes to give the illusion of extended whites of the eyes, or more prominent eyes. This will make you look more awake and alert. If you're lining the waterline, make sure that you choose a formula that is safe for that area. Never use a liquid liner there, and regular pencil liners may be too harsh. Try a kohl or gel liner.
For sex appeal and drama: To create a smoky eye makeup look with liner, line the outer one-third or two-thirds of the lower lash line with kohl liner, then smudge the edges with the darkest shadow colour you used on the upper lid. For an even more gradient, smudgy effect, use the medium shade to blend the sides of the dark shadow colour out.
For light definition: Use a medium brown pencil liner to barely go over the bottom lash line, two-thirds of the way in. Make sure the line isn't too sharp by smudging with your little finger or a cotton swab. For drama without being too obvious, line the waterline with black, navy, or plum and lightly smudge downward into the lashes. The dark colour will contrast with the whites of your eyes for a brightening effect.
Dragging a thick band of colour across the lower lash line rarely works and can close off the eye. A liner that is too thick on the bottom will give the illusion of baggy bottom lids, which can be ageing. Keep the lines relatively thin and apply most of the product toward the outer corners, tapering it in as you move one-third or two-thirds of the way in.
When wearing eyeliner on the bottom of the eye, precision in an application is a must. Smudging too far down could result in an aging effect, and not having the right tools for applying to the water line could result in eye irritation. It's wise to skip liquid liner on the bottom lashes altogether since it can run into tiny lines below the eyes or look harsh as it's challenging to smudge effectively.

For gel or powder liner below the lower lashes, a thin, stiff, angled brush will do the trick. Start at the outer corner with the most extended bristles of the brush toward the outside edge of the eye, then drag inward.

If you wish to apply a gel product to the waterline, you can use a bent eyeliner brush. The angled handle makes it easier to apply the product just where you want it. It also comes in handy along the upper lash line. Another option is to dip a regular pencil liner into the gel product and apply it with that. This will give you the precision of the pencil without the tugging. The powder is not recommended for the waterline.

Tips to Remember
Keep the thickest part of the liner toward the outer edge of the eye.
Experiment with different colours to see which ones make your eyes stand out most and look the brightest.
Skip liquid liner on the lower lid.
Set kohl liner with a similar shadow colour to avoid smudging.
Lighter colours make you look more awake, but darker colours can really make your eyes sparkle.
Lining around the eyes can make them appear smaller. Leaving the inner corner open or applying a light shadow or pencil, there can alleviate that effect.
Wearing liner on the lower eye area can brighten or define. With the right application, it can make your eyes have tremendous appeal.