Add a header to begin generating the table of contents
Warning: women who are prone to vanity may experience feelings of depression after reading this article. Be on the lookout for incredibly stunning guys and ladies! Celebrities are not strangers to getting tattoos, as evidenced by Kendall Jenner and Hailey Baldwin's identical broken-heart designs, as well as Angelina Jolie's extensive collection of body art, which has been widely documented. However, such tats are not the only form of tattoos that are popular among the Hollywood set.
People who want larger eyebrows, lusher lashes, and even more youthful-looking lips are making a buzz with a makeup technique called semi-permanent makeup, which is a variation on the tattoo. Makeup tattoos are not the same as they were in the past; thanks to digital technology, more precise needles and blades, and advancements in ink shades, the results are more natural looking and last for about two years. This means that even if fashions change drastically, you won't be permanently inked with your look.
Microblading has been all the rage as a result of the demand for eyebrows similar to those worn by Cara Delevingne. The most common type of semi-permanent cosmetics, eyebrow tattooing is considered by many to be the solution to achieving natural-looking brows. This is true regardless of whether your genes gave you sparse hairs or you overplucked your brows when you were younger.
The trend of using permanent makeup to enhance one's appearance has completely taken over the world. It should not come as a surprise that a large number of celebrities have hopped on the bandwagon and had permanent makeup procedures done because of how natural this type of makeup may look. I mean, who would know? You just noticed that they look nicer without makeup on the right, don't you?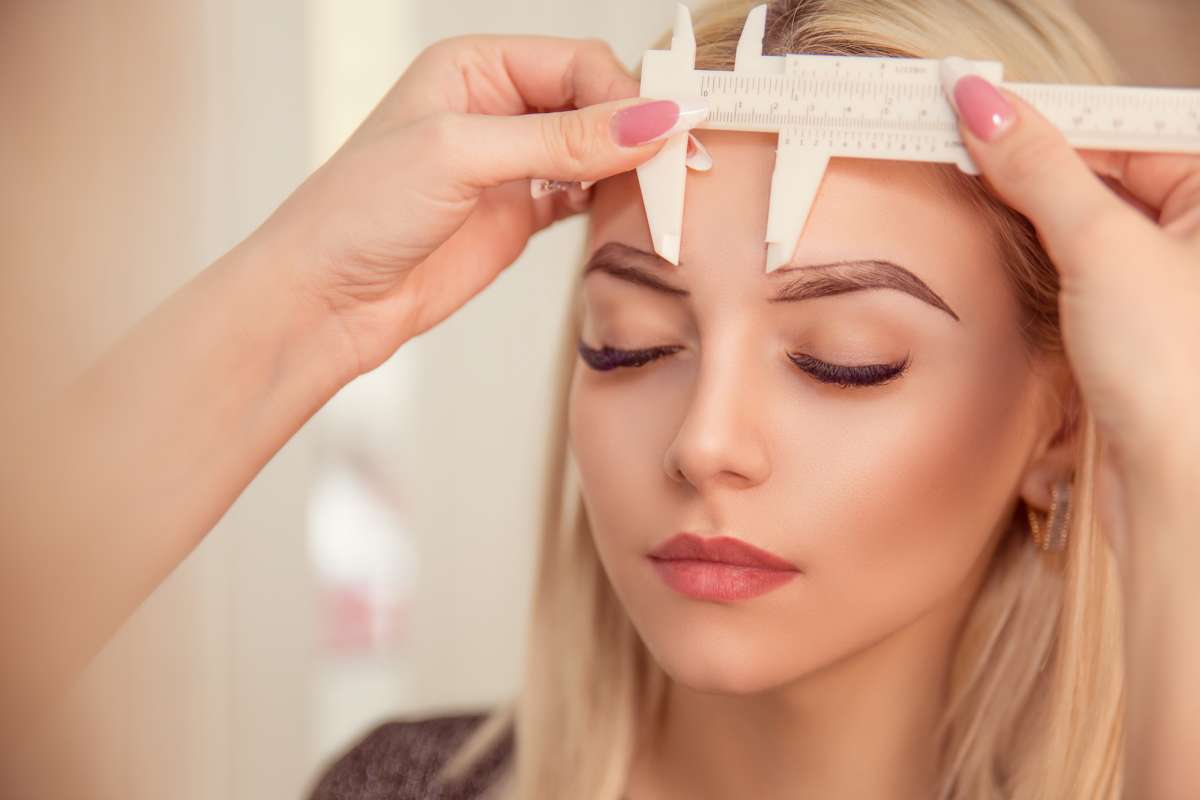 There are many techniques for permanent makeup that are popular among both celebrities and regular people like you and me. This includes procedures such as microblading, also known as "natural hair strokes with ink," cosmetic eyebrow tattooing, also known as "Ombre shading/powder/intense," permanent lip liner and lip blush blend, permanent eyeliner, and head tattooing, also known as "scalp micropigmentation." The lives of celebrities are constantly scrutinised by the general public. They always make an effort to seem great in order to escape the criticism that would be levelled against them in magazines regarding their neglected beauty.
It's common knowledge that a significant number of famous people are keen on obtaining permanent cosmetic effects. They can look their best at any time thanks to the permanent makeup. As a result, the paparazzi who have been hanging about in anticipation of taking an embarrassing image of them after the workout might be left disappointed.
The decision to undergo permanent makeup is a no-brainer for Hollywood superstars, so it's not even a question. Their enormous pockets are more than capable of paying for multiple sessions of microblading. In addition, permanent makeup affords them the luxury of being able to go out of their New York City apartments without first applying any makeup and still appear attractive to the photographers who follow them about.
In response to the ever-increasing desire for additional spare time, cosmetic companies have begun developing permanent makeup. The world is a chaotic place, and applying makeup—for both men and women—requires a significant amount of time. Microblading, thankfully, not only shortens the amount of time required for beauty regimens but also reduces the amount of money spent on makeup.
But how exactly is that even possible? Permanent makeup, on the other hand, requires only one appointment per year rather than your standard daily routine. The payment of $500 also serves as a replacement for the annual thousand-dollar makeup bill that you have accumulated.
The use of artificial eyelashes and eyelash extensions is common practise for celebrities both on and off camera. However, a new treatment may make these tried-and-true beauty aids obsolete in the near future. Lashline enhancement creates the illusion of thick, full eyelashes. This procedure involves the semi-permanent implantation of minute dots and hairlike strokes along the lash line.
When Lip Service first started, injectables were the only method to get a fuller, more pillowy pout than you naturally had. Nevertheless, as a result of developments in tattoo technology, repigmentation makes it possible to obtain younger-looking lips with just a stroke of a digital pen. Emilia Berry, a semi-permanent makeup artist to the stars and the founder of New York City-based PermaLine Cosmetics, explains that as we get older, our lips split and fade primarily as a result of wind damage, sun damage, and general use. It's not uncommon for lips to develop a patchwork appearance. Now let's find out who's had what and who's done the best job of pulling it off!
Rhianna
It is said that this Caribbean Queen, who is famous for both her singing and her stunning looks, has had permanent cosmetic eyebrow feathering done in order to enhance the appearance of her eyebrows. As if she needed to make her uncommon appearance any more appealing!
Rihanna is blessed with a stunning appearance, which includes full lips and attractive eyes. She highlighted her flawless features with tattooed brows, which also gave her face the appearance of being much younger than it actually was.
Angelina Jolie
The six-time mother and Academy Award winner is allegedly to be a great lover of permanent cosmetics. Her lips are properly defined and have a consistent colour that only needs gloss. There is some confussion about whether or not she had microblading done because her eyebrows appear quite natural. Angelina Jolie, who is most known for her mesmerising lips, enjoys permanent makeup. She also got rid of her sparse brows from the previous decade and enhanced her beauty with microblading. She hardly ever wears new lipstick on her full lips, suggesting that she may have undergone a permanent lipstick procedure.
Coleen Rooney
We all know that her husband had a hair transplant, and it appears that Coleen enjoys having her appearance permanently improved. She was much ahead of the majority of us when she got her eyebrows tattooed in 2010!
Nicole Scherzinger
Permanent makeup is the secret to Nicole's perfect eyebrows. The form complements her sexy, intense appearance by emphasising the contours of her face. To what extent may I compliment her on her Schermazing eyebrows?
Eva Mendes
Mrs. Ryan Gosling or Eva Mendes in real-life. Those brows, for sure. That craggy face. Eva freely acknowledges that she maintains her youthful appearance with the help of the laser, ZIIP electrical facials, and coconut oil. Because her brows appear so real, we are curious as to whether or not she has had microblading, which is a form of hair stroke tattooing. The lovely beauty spot is naturally occuring, but it has become a source of motivation for women to get permanent tattoos of beauty spots in order to acquire the same adorable appearance.
Megan Fox
The amount of alteration that Megan Fox has undergone may be seen in the before-and-after pictures that are widely available on the internet. She had a few different treatments and procedures done, but the one that stands out the most is the one in which she got lip fillers. If we look at images of her without makeup, we can see that her lashes are still pretty full, which suggests that lash extensions are another one of her go-to beauty products. However, it is impossible to deny that both her plastic surgeon and her makeup artist did an excellent job because she appears to have no signs of artificial enhancements.
The actress Megan Fox, best known for her role in the Transformers franchise, has undergone a remarkable transformation since she first emerged in the public eye in 2005. She is an avid supporter of Laser resurfacing, Filler, Botox and she keeps also seen a reduction in the size of her nose. It appears as though she may have had microblading done on her eyebrows, and the fact that her lips have a very defined edge and a solid colour suggests that she may very well have also had tattoos done on her lips (which always looks completely natural when the full blush is done correctly).
Kim Kardashian
We are all aware that Kim is eager to experience any new method or treatment that may become available. Her appearance has undergone a remarkable transformation over the course of her lifetime, which appears to be a common thread running through her family (take note of Caitlyn Jenner!). If you have ever seen her reality TV shows, you know that she sheds a lot of tears throughout them, but guess what? Her makeup doesn't run! Everyone in the family has permanent makeup such as eyeliner, lipstick, eyebrow and they all look fantastic.
It is extremely unlikely that the queen of change will be overlooked. It is hard to know where to start due to the extensive number of surgeries that she has undergone. In spite of this, she hasn't come clean about the procedures and therapies she's received, maintaining the appearance that she is entirely natural. It is clear that she, like many other people, enjoys having their eyebrows microbladed. Then, her lashes always appear to be beautiful, and her eyeliner never smudges, even while she is crying on stage during her performances. Therefore, there is a reason to believe that each of them is a form of long-lasting makeup.
Madonna
Because Madonna will do anything to avoid looking her age, permanent makeup was an easy decision for her. She had naturally thick brows when she first began her career in the 1980s, but as with everyone, as we get older, our brows start to thin out. She hasn't formally acknowledged having eyebrow microblading, but her makeup artist Laura Choate has made it known that she has. Madonna employs the microblading procedure to fill in hairless patches and create a gorgeous, natural contour.
Madonna appears to be making a valiant effort to maintain her youth despite being in her sixties. Her brows are one of the qualities that make her an 80s pop queen. She is a huge supporter of the microblading procedure because thick, natural-looking brows give the appearance of a youthful face.
Mila Kunis
The first client that comes to mind when one thinks of eyebrows that changed the game is Cara Delevigne. A few years ago, everybody went absolutely bonkers over her naturally full, bushy, and thick eyebrows, and they all wanted them right away. The therapy known as microblading began to gain popularity about that time. Mila Kunis is one of the many famous people who gave in to the pressure and did it. She made the decision to get rid of her penciled-in, thin brows and instead go for this extremely fashionable treatment.
Michelle Obama
The former president of the United States' wife, a picture of elegance and flair herself, has been reaping the advantages of permanent cosmetics. Michelle allegedly got her eyebrows tattooed in such a delicate, natural-looking manner that they absolutely complement her.
Cher
This woman doesn't appear to age. Her appearance cost a lot. She like permanent makeup, and she especially loves permanent eyeliner. After all, she loves her permanent makeup so much that it is nearly impossible to imagine her appearing unkempt.
Jennifer Lopez
J Lo matures like to wine. Her flawless appearance is envied by women around. One of the permanent beauty procedures that this diva enjoys is eyebrow feathering in combination with mild manual shading, which beautifully draws attention to her eyes and gives her a fresh-faced, natural makeup appearance.
Pamela Anderson
The decade's most desirable female celebrity still has a stunning appearance. She is going for the natural, bare-faced style that is supposed to make her appear more sophisticated. Her go-to procedure is a lip liner that may be made permanent, which gives the appearance of fuller and more defined lips.
Keira Nightly
Keira has been included because, despite my suspicions, her eyebrows are genuinely amazing. She asserts that she has naturally hairy brows and has never plucked them, not even during the craze.
Jessica Lowes
The 90210 actress from Canada, who originally gained notoriety as a Lipsy model, hasn't publicly acknowledged getting permanent makeup. But upon closer examination, it seems as though she may have had natural powder brow tattooing to further define her brows. She also left the house wearing only a little gloss, which suggests she may have had permanent lip blush. Who says women can only use permanent makeup? Who are these male celebrities who have taken their commitment to beauty to new heights?
Johnny Depp
The Pirates of the Caribbean actor allegedly underwent surgery to give his eyes a deeper set appearance. Although this claim hasn't been confirmed, it seems unlikely that someone would have eyes that menacing. Do you believe Johnny Depp had work done on his lash line?
Nicolas Cage
Actor Nicolas Cage, who has won awards, reportedly has microbladed eyebrows. Which makes sense considering how important good brows have always been to any great actor in Hollywood. Nic's permanent brows are, alas, still just rumours, but we wouldn't be surprised if they were soon verified to be true.
Nicolas Cage, one of the most well-known actors, has found certain procedures that will make him seem better. If you look little close, you can tell that he also had his eyebrows microbladed.
Dustin Hoffman
According to rumours, veteran actor Dustin Hoffman has also had microblading done on his eyebrows. If what you say is right, then the work has been done quite skilfully. Nobody would ever be able to figure it out just on the celebrity's images, movies, or public appearances. After all, the most effective form of permanent makeup is the kind that goes unnoticed! Dustin Lee Hoffman, who was born in 1937, has been working in film since 1967, when he made his debut in the part of Mr. Robinson in The Graduate.
Permanent makeup is not something that men should be afraid of. If you are a man who is weighing the benefits and drawbacks of getting permanent makeup, here are all of the reasons why you should go ahead and get it done:
You feel better about yourself as a result. Where is the guilt in wanting to look better than you already do? You shouldn't be afraid to have permanent cosmetics if it gives you a much-needed confidence boost.

You most likely need it. As we age, our lips become lifeless and the outside margins of our brows get more onerous. Men's hairlines also have a tendency to regress. Why not use natural treatments if there are ones available for these issues? All of these problems can be resolved by microblading.
According to Bossavy, who has been doing this for decades, the most crucial piece of advice is to avoid following trends and to instead "enhance what you have." Her goal is to accentuate her client's inherent attractiveness while yet giving them a polished appearance. Bossavy offers treatments for permanent eyebrows, scar camouflage, lips, stretch marks, and eyeliner, as seen in the photo below, and skin discoloration in her salons in New York, Paris, and Beverly Hills. In New York, where I had my complimentary appointment, I was able to take advantage of one of these services.
"Permanent makeup has had a lot of different titles throughout the years, but what people need to realise is that when they go on through this operation, it is a form of a tattoo," Bossavy said. "Permanent makeup has been referred to as a lot of various things over the years." "Over the years, permanent makeup has helped women increase their confidence by allowing them to live their life without the burden of having to apply makeup. It has also given them the assurance that they always look good, which has helped them live their life without the burden of having to worry about whether or not they look good,"
It is recommended that anyone who is considering getting permanent makeup must first do some study on the type of treatment that will be performed. In addition to that, check to see that the person who will be doing it for you has a good reputation. Similar to obtaining a traditional tattoo, it requires a large financial investment as well as a commitment on your part.
Conclusion
Permanent makeup has swept the globe. Digital technology, more precise needles and blades, and ink shade advancements have made makeup tattoos more natural. Hollywood stars love permanent makeup. Permanent makeup only requires one appointment per year. $500 replaces the $1,000 makeup bill.
Who did it best? Natural beauty spots have inspired women to get permanent tattoos of them. Megan Fox, known for her Transformers role, has transformed since 2005. She loves Laser resurfacing, Filler, and Botox, and her nose has shrunk. Her eyebrows may be microbladed.
The procedure fills hairless patches and creates natural contours. Jessica Lowes may have permanent brow tattoos. Johnny Depp reportedly had surgery to deepen his eyes. Dustin Hoffman's eyebrows were microbladed. Here are the benefits of permanent makeup for men. As we age, our lips lose elasticity and our brows thicken. Microblading fixes all these issues. It requires a large financial investment and commitment, like a traditional tattoo.
Frequently Asked Questions About Celebrities That Has Permanent Make-up
Microblading, which is a fancy name for a permanent eyebrow tattoo, is probably the most popular permanent makeup treatment out there. Using a fine needle, the artist deposit pigment directly under the skin to mimic the strokes of natural eyebrow hairs to recreate fuller, natural-looking brows.
Will permanent makeup fade completely? Yes. With time, your permanent makeup will fade completely. Most tattoos start fading in less than six months and take two to three years to disappear entirely from the skin.
"The most serious risk is an infection," says Dr. Goodman. "Pathogens can be placed inadvertently into the eyelid, and from there they can infect the surrounding soft tissues." Other risks include allergic reactions, migration of the applied pigments, excessive or irregular scarring, and keloid formation.
Does Eyeliner Tattoo Hurt. A numbing cream is applied to the area prior to your eye tattoo procedure, which should make the whole process relatively painless. Some people with sensitivity or a lower pain threshold may find the procedure mildly uncomfortable, but generally most client's experience little or no pain.
I've seen permanent eyeliner tattoos fade into blue-green tones which look really unflattering. Semi-permanent eyeliner is implanted more shallowly, so this shouldn't be a problem… but still.